Vauxhall Astra Exclusiv
The Astra is justifiably one of the staples of the UK's fleet and daily rental market, and Exclusiv trim is aimed squarely at business users.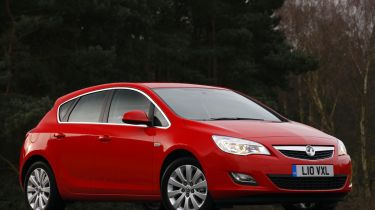 The Vauxhall Astra is a permanent fixture among the UK's five best-selling cars, and it's easy to see why. It's a solid no-nonsense car, although it's not as good to drive as the Ford Focus, or as slow to depreciate as the Volkswagen Golf. There's an engine to suit most requirements, and the latest model seems to have better reliability than its predecessor. Exclusiv trim is aimed squarely at the company car and daily rental markets. It has steel wheels with plastic covers, which are cheaper to replace than having alloy wheels refurbished after parking scrapes. A good stereo with steering wheel-mounted controls, cruise control and air conditioning are standard, as is electronic stability control. The basic 86bhp 1.4-litre petrol engine is a bit weak, but the 99bhp 1.4 and 114bhp 1.6 petrol units are perfectly adequate. Our favourite is the 138bhp 1.4 turbo petrol, which is strong and efficient, if a bit pricey. Business drivers might be better off with the 94bhp 1.3 diesel, which attracts only a 13% company car tax rate. There's also an expensive 109bhp 1.7 diesel.
Good points
The Vauxhall Astra isn't as good to drive as a Ford Focus or Volkswagen Golf, but it still performs well. Its ideal habitat is on motorways, where it is calm, comfortable and relaxed. With the exception of the base 1.4-litre petrol engine it performs well, too. Cabin space is adequate rather than plentiful, but the boot is one of the largest in the compact hatchback class. The soft-to-the-touch materials in the cabin, and the way everything has been put together, are excellent.
Bad points
The problem with the Astra is that it is not class-leading in any area. It competes with its major rivals in most respects, but it comes across as adequate rather than outstanding. There are other compact hatchbacks which drive better, are cheaper to run, have more space and offer more equipment. It's not as if the Astra has a price advantage, either. The equivalent Ford Focus or Volkswagen Golf delivers more for less money. And depreciation is worryingly high as a result of the fleet deals Vauxhall is prepared to offer. Some of the switches and controls are too small to be easy to use, and rear-seat passengers will find life a bit claustrophobic because of the angle of the roofline and the small windows.
What you get
Folding rear seats
Passenger & Driver airbag
Front side airbags
Curtain airbags
Manual air conditioning
Height adjustable driver's seat
Front electric windows
Single CD player
AUX stereo input
Cruise control
Recommended optional extras
Our choice
The 1.4-litre turbo petrol engine is easily the pick of the six engines available, although high-mileage company car drivers might be better off with the 1.3 diesel.