Skoda reveals future design language with new baby Enyaq
A new SUV has been teased ahead of a reveal that will showcase Skoda's future design language, with additional EV models planned.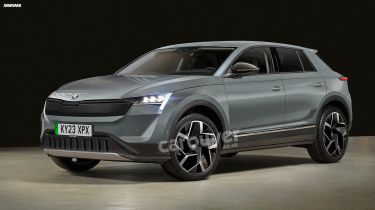 Future Skoda EV models confirmed
Launch of new design language in September
New model expected to be shorter than the Enyaq
An image of a new baby Skoda SUV has been shown during the firm's annual press conference by the company's outgoing CEO.
During the presentation by Thomas Schäfer, a slide show revealed a mostly blurred picture of a new model, with only the nose of the vehicle in focus – the front grille area showed a flush design common to EV models. The teaser image makes the scale of the vehicle difficult to judge. However an examination of the wheels and wheelbase reveal a car that is smaller than the Enyaq.
The vehicle is likely to be a concept that will remain close to the production model because Skoda has a history of producing concepts that are close in design to the finished product.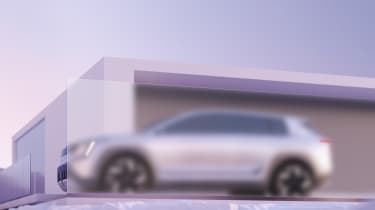 Schäfer announced increased profits at Skoda's annual press conference, adding that the brand will be targeting modernisation in 2022. This includes a concentration on more electric vehicles and a new design language called Modern Solid. When asked about the new design language he said: "You will see a 'wow' moment for our competitors and our customers." 
Other EVs have already been lined up for future release, according to Schäfer. They will be smaller than the Skoda Enyaq and at least one is likely to be based on the MEB platform. Schäfer also announced that Skoda's future design language is geared towards electric vehicles, with little planned for internal combustion engines past the middle of the decade.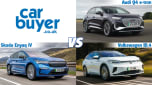 Audi Q4 e-tron vs Skoda Enyaq vs Volkswagen ID.4 – which should you buy?
Skoda's largest model, the Kodiaq, is expected to be replaced in 2024 with a new model, and is likely to join Skoda's plug-in hybrid line-up according to Schäfer, despite denying this as recently as a year ago. He said that "the outlook in the EU doesn't help, because plug-in hybrids won't be supported in the future." 
He added "The technology is available in the (Volkswagen) Group, and the platform is available. We just had the facelifted Kodiaq last year so we would still have the time to decide if we go for it on the next car." This suggests Skoda can wait before making a firm decision on any future Kodiaq.
Skoda has been facing the same manufacturing challenges as many other car makers for the past two years because of the global microchip shortage. However, profits increased from 2020 to 2021, with over a billion Euros of profit reported last year. This was thanks to a better sales margin on orders, up 6,1% year on year.
Can't wait for that new SUV? Check out our list of the Top 10 best electric SUVs 2022