New Subaru Forester all set to hit the UK in 2024 with hybrid power, eventually
It might look like a refresh, but the Forester SUV is all-new and it's going hybrid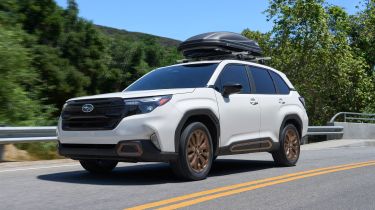 Subaru's first full-hybrid
Near £40k SUV arriving next year
Upgraded interior infotainment and tech
The covers have come off the latest Subaru Forester at the LA Auto Show, marking the model's fifth generation. While it may look like a facelift, it's actually an all-new vehicle, continuing Subaru's successful formula with over 2.6 million cars sold in the US alone. It's expected to reach UK shores in 2024, with an anticipated price hovering around the £40,000 mark.
The familiar five-door SUV design with its upright stance remains while the Forester gains modernised head and tail-lights, a new high-gloss grille and a wider stance.
One major highlight is Subaru's foray into electrification, with the introduction of the Forester's first full-hybrid model scheduled for next year. Maintaining its commitment to four-wheel drive, the new Forester introduces dual-function 'X-mode' and offers an impressive 221mm of ground clearance. While the US version features a 2.5-litre flat-four engine, the UK variant will continue with the trusted 2.0-litre unit that also features in the Subaru XV.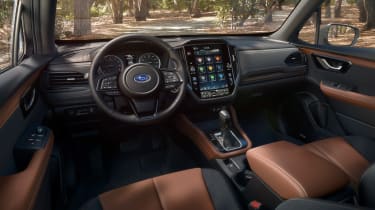 The Forester's chassis boasts a 10% increase in stiffness compared to its predecessor, promising a smoother ride and reduced noise levels. Interior upgrades include enhanced quality and infotainment, featuring an 11.6-inch touchscreen in a portrait layout with wireless Apple CarPlay and Android Auto support, along with wireless smartphone charging.
Subaru's 'EyeSight' driver assistance system has been refined for a broader field of view ahead of the car and improved cyclist and pedestrian detection. Even the tailgate received a tech makeover, now opening with a simple foot wave under the bumper when your hands are full of shopping.
Subaru's CEO, Atsushi Osaki was on hand to pull the covers off the new Forester in LA. He also announced plans to launch another eight EVs by 2028 - four of them due to go on sale before 2026. These models will come in addition to the Solterra EV, a version of the Toyota bZ4X, that's already on sale in the UK.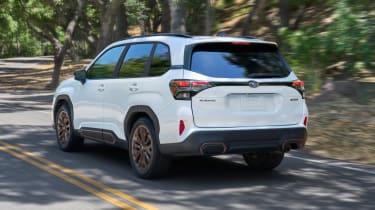 Prospective owners will be hoping the new Forester proves as faithful and rewarding to live with as the Subaru Outback, which came an impressive fifth out of the top 75 cars in our 2023 Driver Power survey – Subaru itself came fourth out of 32 brands.
Read our in-depth review of the outgoing Subaru Forester, check out Subaru's impressive Driver Power result or peruse our rundown of the best SUVs on sale