Best winter tyres to buy 2018
To help you survive the big freeze, we explain what winter tyres are, whether you need them and which ones are the best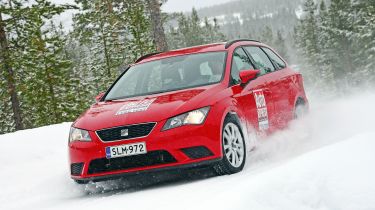 While Britain is rarely as heavily affected by extremes of winter weather as some other parts of Europe, we still have to take extra care on the roads between November and February. Cold snaps can come as something of a surprise, with black ice an invisible menace even when the roads are clear of snow.
Not to be confused with all-season tyres which excel on wet roads in particular, the tread pattern of winter tyres increases their ability to grip and brake in all weathers, including on snow and ice. While mandatory in many European countries, surprisingly few drivers fit them in the UK, although the harsh winters of recent years have increased their appeal among British motorists. Tyre suppliers haven't been slow to react, either, and there's now a far wider choice of winter rubber on the market than ever before.
If you want maximum driving reassurance in winter conditions, winter tyres are definitely the way to go, even when the skies are clear. They come into their own when the temperature drops, and are far more capable of coping with cold-weather driving conditions than other tyres – not just when snow lies on the roads.
Britain's roads can be caked in icy mud, slush and snow in the winter, and even a dry road can be slippery when the thermometer plunges. If you've never considered fitting a set to your car, our guide explains the advantages they bring.
We've also put some of the leading brands to the test, and you can read on to find out which will suit you best before the sun returns in the spring.
Winter tyres explained
Winter tyres are designed to perform exactly as their name suggests. Their material and design are optimised to be suited to cold weather conditions and are considerably different to summer or all-season tyres. The result is a tyre that grips onto a cold and slippery road surface far more effectively than a tyre designed for warmer weather.
As you might expect, nobody has yet designed a tyre that can do everything, and while a winter tyre might not be great on a warm, dry racetrack, a high-performance standard tyre will be hopeless in the snow. A good winter tyre is designed to perform a very specific job – to keep you safe and mobile in cold weather.
To achieve this, winter tyres are designed and constructed differently to summer tyres. They contain more natural rubber, which means they're softer – and therefore grippier – than summer tyres in really cold temperatures. They also have extra grooves and shapes in their tread, designed to better disperse water and slush, allowing better grip in wet conditions.
Do you need winter tyres?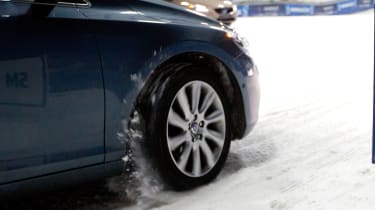 This is an easy question to answer, if you want your car to be safer and more enjoyable to drive in the colder months. We've tested summer tyres against winter tyres in cold conditions and there's a huge difference in their performance capabilities – with summer tyres designed for temperatures above seven degrees celsius, it's hardly surprising they're a let down in arctic weather. One statistic above all others is hard to ignore – a car with summer tyres can take up to three times longer to stop on a snow-covered road than one with winter tyres.
We'd never recommend driving in snow if you can avoid it, but if you regularly have to make cold-weather journeys, a set of winter tyres could do more than just make driving easier – it could save your life. Even if you have a four-wheel-drive car or SUV, you'll find the cold-weather performance of either dramatically boosted by winter tyres.
Although having a second set of wheels and tyres sitting around waiting for a cold snap isn't always practical, some suppliers will store your summer wheels over the winter while you're not using them. And although motoring is costly enough without having to budget for another set of tyres, if you think of them as an insurance policy and remember they're likely to last you several years of occasional use, winter tyres really don't look bad value.
Read on to find out our pick of the best winter tyres for 2016 and 2017, or – if you're still not sold on the idea – read more here to see that winter tyres are really worth it.
Best winter tyres to buy
To find out the top winter tyres for your car, we've put some of the best-selling examples to the test, in sizes to suit many typical family cars – exactly the kinds you'd expect to see on the roads all year round. The tyres were tested at two of the industry's best cold-weather test facilities in Finland and Germany, by our own impartial drivers, apart from in specific or potentially dangerous tests, where professional drivers were employed.
The tyres were tested for straight-line, braking and handling performance in snowy, wet and dry conditions – all in low temperatures to match the worst the UK can offer. They were also tested for rolling resistance (to gauge their likely impact on fuel efficiency) and noise. All the tyres chosen met the same specifications for speed and load index.
Finally, we also benchmarked them against summer tyres in the same test – and in every test, every winter tyre outperformed the summer tyre in the same conditions/
Scroll down to see which tyres are best to keep you on the road this winter…
Continental WinterContact TS 860 Found halfway up the pricelist, the Continental performed very well in braking tests in snowy, dry and wet conditions, while excelling in the dry handling, interior noise and efficiency tests. This is the tyre that we feel best suits UK winter motorists overall.
Nokian WR D4 The cheapest tyre on test, the Nokian did superbly in the snow and in wet conditions, but struggled in handling disciplines. It was the joint noisiest and least efficient on test, but its sheer value puts it in second place.
Pirelli Cinturato Winter The second least expensive, the Pirelli never finished out of the top three in snow performance, was middling in dry weather tests but good for wet-weather handling. A solid third-place finish.
Goodyear UltraGrip Performance Gen-1 The most expensive on test and very effective in wet conditions, but only average in the dry. Not enough for more than a mid-table finish overall.
Michelin Alpin 5 The Michelin did quite well in the snow, but was less happy in wet or dry conditions. A mid-table finish for efficiency and one of the noisier tyres on test, so it winds up in fifth position.
Bridgestone Blizzak LM001 Didn't excel in any specific regard, but the third cheapest and the second quietest from inside the car. A reasonable all-round choice if you're on a budget. Sixth place.
Dunlop Winter Sport 5 The second most expensive in the test, but the least effective in the snow. Performance overall was rarely above mid-table, but dry performance was good. Seventh position overall.
Hankook i*cept RS2 Slightly more expensive than the Continental, the Hankook rarely posted above-average scores and particularly struggled in the wet. It's happiest in dry conditions. Eighth place.
Alternatives to winter tyres
Once winter tyres are fitted to your car, there's nothing to touch them for convenience – they'll take you through the cold season with a minimum of fuss and bother. If you choose to go without, though, there are still options available for those occasional snowy excursions.
Snow chains are the most popular alternative to winter tyres. They're more common in colder parts of the world than in the UK – it's even compulsory to carry them in your car in some countries. They can be quite tricky to fit and remove, and while they do help keep you on the move in the snow, they make for a very rough ride and need to be taken off immediately when you get to some clear tarmac.
Snow socks are cheaper than snow chains. They're basically bags that slip over the wheels of your car to boost grip in slippery conditions. They're an impressive way of keeping you moving in the wet and snow and we think they're the best alternative to winter tyres. The only problem is they wear out quite quickly.
Spray There's now a special spray you can use on your tyres to help you on your way. It's designed to only be used when you're stuck and is easy to apply. You simply clear the tyre of snow, apply the spray and leave it to dry for a few minutes. It's no match for hardier alternatives like snow socks or chains, but we were impressed by the step up in grip compared to an untreated tyre.
Now see how else you can prepare your car for winter with this winter car checklist
Get 10% off Motoreasy's tyre insurance with the code: CARBUYER10
Best cheap sports cars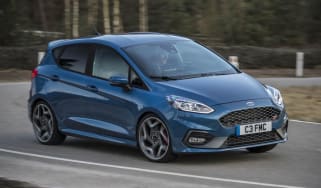 Best hybrid cars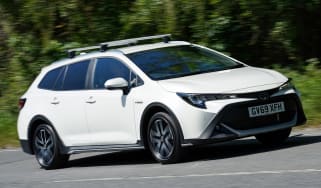 Best company cars