Vauxhall OnStar: a beginner's guide
What is OnStar? How does it work and how could it benefit you? When is it being turned off? We explain all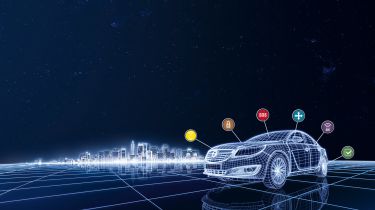 Vauxhall's OnStar is a concierge service that can help with technical queries, automatically alert the emergency services in the event of a crash and even help trace a stolen car. OnStar was first introduced in 2015, and in May 2018 Vauxhall announced it will cancel the service on 31 December 2020, with no new vehicles fitted with OnStar from January 2019.
But what exactly is it? How does it work? Why is it being turned off? Are there any implications for your privacy considering your car is so 'connected'? Read on to find out all about it.
What is OnStar?
OnStar provides a direct link between your car and Vauxhall, using the same GPS technology as sat navs and mobile phones. In cars with OnStar, the only additions you'll notice are three small buttons above the rear-view mirror. One has a blue OnStar logo and is used to speak directly to an advisor should you need assistance; a second red 'SOS' button can be pushed in an emergency, giving you a priority connection to an OnStar advisor who can contact the emergency services on your behalf. The third button is a privacy switch that deactivates your car's GPS locator.
While Vauxhall is one of the first manufacturers to offer a service like this, OnStar is a form of 'connected car' technology that's likely to become increasingly popular in the next few years. For example, all new cars sold in the European Union from April 2018 are fitted with an 'eCall' system that will automatically contact the emergency services in the event of a crash.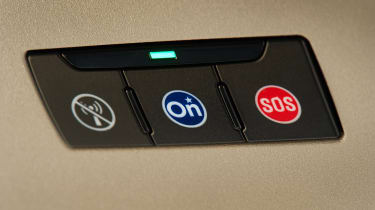 OnStar has been available in the US for almost 20 years and has roughly seven million annual subscribers who push the blue OnStar button about five million times a month. China is another important market for OnStar, with almost 25 million calls to the service made every month. Take-up of the service in Europe was also successful: in the first nine months of its operation, over 300,000 calls have been made to the OnStar Command Centre, while 150,000 monthly diagnostic emails have been sent out.
Our sister publication, Auto Express, gave OnStar its Technology Award at the 2015 Auto Express New Car Awards.
What does OnStar do?
OnStar was devised to make driving both safer and easier. It provides communication and GPS services and can also diagnose technical and maintenance issues with your car. In essence, OnStar is a cross between an integrated smartphone, the 'black box' recorders fitted to airliners and a concierge service.
Information on UK OnStar customers' cars is sent to Vauxhall's command centre in Luton. All calls are answered in person, with the call handler knowing where you are and what model of car you're in. If you car has sat nav, OnStar advisors are able to send route guidance to the system for you to see. OnStar also provides a wi-fi hotspot, allowing up to seven people in the car to connect their phone, laptop or tablet to the internet at once. If you're worried about your children spending too much time on their electronic devices, though, a quick call to OnStar will see the wi-fi function switched off.
OnStar's 'black box' element, meanwhile, informs the command centre of any technical issues with your car. There's also a hugely popular OnStar smartphone app, which can be used to contact an OnStar service advisor, as well as offering useful functions, including remote door unlocking.
How can OnStar help me?
While OnStar only has three buttons, it provides a host of services and features. In an era where smartphones are everywhere, some might wonder why you would need a concierge service to send a sat-nav route to your car. But anyone who's ever tried to find country hotel 'off the beaten track' or a destination without a postcode will be grateful for this feature. Similarly, if you're running low on fuel, an OnStar advisor can automatically route the car's sat nav to the nearest petrol station.
OnStar's location service comes into its own in the event of a crash, automatically contacting the emergency services if the airbags deploy and pinpointing precisely where you are. Similarly, if your car is stolen, OnStar can help the police track it down, as well as immobilising the engine as soon as it's switched off. Vauxhall says a growing number of OnStar customers have been reunited with their cars thanks to the system, including cases where the vehicle had been taken abroad after being stolen.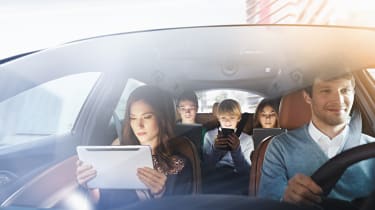 The wi-fi hotspot is a boon for smartphone and tablet users, both in terms of work and leisure. Long journeys can be made more enjoyable by streaming music and films without worrying about mobile data charges, while the ability to use a laptop to work on the move is bound to appeal to business users.
OnStar's diagnostic systems automatically monitor things like your tyre pressures and engine oil level, which can be viewed using the smartphone app or e-mailed to you on request. Any dashboard warning lights that appear, meanwhile, can be diagnosed by an OnStar advisor, who can also book your car in for service or repair if necessary.
The popular OnStar smartphone app can remotely lock and unlock the car's doors – useful if a friend makes it back to the car before you or you've somehow managed to lock your keys inside. The app can also sound the car's horn and flash its lights, as well as pinpoint its location on a map, making forgetting where you've parked or hunting for your car in a crowded car park a thing of the past.
Vauxhall added some extra functions to the the smartphone app in early summer 2016, one of which means drivers can programme their next journey into the car's sat nav remotely. Another feature was added that allows for comments and even a photo to be added to the Vehicle Location function, with the intention of making it easier to remember where the car is parked. The app also has a timer function that can be set to remind you when your parking ticket is about to expire.
For a hands-on look at how OnStar works on the road, check out Alphr's OnStar review.
What about privacy? Am I constantly being monitored by OnStar?
If you're worried about privacy, rest assured that OnStar's GPS tracker can be turned off by simply pressing a button, preventing advisors at the OnStar command centre in Luton from seeing where you are. This feature is unique to European OnStar customers and Vauxhall says the only time it'll be overridden is in the event of an emergency.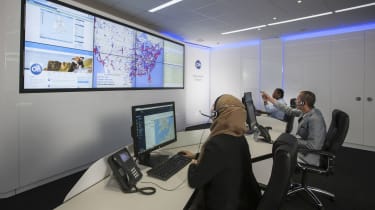 Security features such as remote door locking and stolen vehicle tracking will require you to enter a PIN number, which you set up when you're activating the service. That should provide you peace of mind in the event that someone else gets control of your smartphone or contacts OnStar in your car.
When and why is OnStar being switched off?
In May 2018, Vauxhall announced that the OnStar service is being turned off on 31 December 2020. In readiness for this, no new Vauxhall models will be fitted with OnStar from January 2019 onwards.
Vauxhall has been bought by the PSA Group (the owners of Peugeot, Citroen and DS), but OnStar is owned by the company who sold it, the US-based car giant General Motors. OnStar appears to be one high-profile victim of the transition to new ownership.
OnStar's emergency SOS feature will also stop working from 31 December 2020, with a spokesperson saying "OnStar Emergency Assistance services are not eCall services for the purpose of eCall Regulations." European laws stipulate that all new cars sold since March 2018 must be fitted with eCall, a system that calls the emergency services in a serious incident. Vauxhall's solution for this is likely to come from PSA Group technology.
How much does OnStar cost?
Vauxhall provides a year's free subscription to OnStar on almost all of its new cars. After those 12 months are up, an annual subscription to the OnStar service costs £89.50, although the wi-fi hotspot requires a 4G signal to work and this will cost extra.
What cars are available with OnStar?
Vauxhall's OnStar technology is fitted across its current range of passenger cars. If you buy a used Vauxhall, it's possible that it won't come with OnStar, and unfortunately the system can't be retrofitted. Vauxhalls will no longer be fitted with OnStar from January 2019.
What if I don't want a Vauxhall?
If you don't want a Vauxhall but like the sound of the OnStar system, many car makers offer similar systems. BMW's ConnectedDrive, for example, can be upgraded to include a concierge service, allowing you to contact a call centre and speak to an advisor. You can even use ConnectedDrive to book a restaurant table, should you wish.
Similarly, Volvo's On Call system allows its users to contact a call centre, with advisors able to help you with navigation issues. Volvo On Call also allows your car to be tracked and remotely immobilised if it's stolen, while an SOS button gives priority contact in the event of an emergency. Like OnStar, Volvo On Call will also automatically contact the call centre if it detects a collision.
Many vehicles are now fitted with Apple CarPlay and Android Auto compatibility, and while this is no substitute for a human concierge service, voice assistants are becoming increasingly complex. Android Auto can interpret voice instructions like "Navigate to Trafalgar Square, London", "Take me home" or "Call home", and you can also ask it to send a dictated message to a contact, or play a song or album - tasks which can make life on the road a little easier and safer, allowing you to keep your hands on the wheel.
In April 2015, the European Parliament voted that all new passenger cars and light commercial vehicles (vans, essentially) sold from April 2018 will have to come with an emergency call system as standard. While this 'eCall' system will be fully automated and won't include a handy concierge service, it will automatically alert the emergency services in the event of a collision.
Privacy campaigners have voiced concerns about the mandatory monitoring of all new cars, but the European Commission, which is spearheading eCall's implementation, is adamant that only 'essential' data will be collected – including the model of vehicle, whether it's a petrol, diesel, hybrid or electric car, its location and the date and time of any crash.
Other critics point to the system's cost: Claire Perry, the UK's Parliamentary Under-Secretary of State for Transport, opposed the initiative, estimating that the total cost of the system will be £370million, with the majority of this being passed on to car buyers. It's expected that the eCall system will add about £70 to the cost of a new car – a minor cost, but a mandatory one some buyers may resent.