Used Skoda Superb buying guide: 2008-2015 (Mk2)
A vast interior, decent driving experience and excellent value for money make the second-generation Superb a top used buy
When the original Skoda Superb was launched in 2002, its name generated mirth in some circles. As a budget alternative to the VW Passat, the Mk1 version was definitely competent, but it wasn't distinctive enough to make much of an impression – let alone an exemplary one.
That all changed when the second-generation Superb came along in 2008, as it does a lot of things exceedingly well. Fans argue the Mk2 Skoda Superb is actually a better car than the contemporary Passat, while it even gives some Audis a run for their money – in terms of space, if nothing else.
The second-generation Superb has a huge boot, one of the biggest interiors around outside of limousines, an excellent engine range, a competent driving experience and strong build quality. There's so much to like, in fact, that our sister publication Auto Express named it the best family car you could buy for three years running.
Skoda Superb Mk2 history
The Superb launched as in 2008 in 'Twindoor' hatchback guise. This clever – if over-engineered – boot arrangement was supposed to blend the perceived kudos of a saloon with the practicality of a hatchback. Press the boot release and a saloon-style trunk lid pops up, or press another button first and clever mechanicals briefly whir to make the opening a vast hatchback. It's a neat trick, but note that the remote boot release only opens the saloon lid.
An estate model followed in 2010 with a conventional tailgate, growing total storage from an already-impressive 565 litres to a truly vast 633 litres – more space than you got in the larger Mercedes E-Class Estate. Rear legroom was also a strong suit: the Superb was said to have the Mercedes S-Class beaten in this area.
Another feature only plusher cars (like the Rolls-Royce Phantom) could boast at the time was the umbrella hidden in the Superb's nearside rear passenger door. This has often gone walkabout on used examples, though.
Superb buyers could choose from three petrol and three diesel engines. The turbocharged 1.4-litre petrol is a little weedy for most tastes, but the turbocharged 1.8-litre is a genuinely zippy performer. The 3.6-litre V6 petrol engine is far too thirsty to sensibly recommend, but it's fast enough to raise eyebrows and comes with four-wheel drive, an automatic gearbox and lots of equipment as standard.
Four-wheel drive was also offered with the 1.8-litre petrol and both the 2.0-litre diesels, while a dual-clutch automatic gearbox was available across the range, save for the 1.4-litre petrol and 1.9-litre diesel.
The diesel range comprised an efficiency-focused 1.9-litre GreenLine, as well as a brace of 2.0-litres, producing either 138 or 168bhp. The 2.0-litre diesels are great, but pick the punchier one if possible. We advise sidestepping the old-fashioned 1.9-litre, as it's coarse and not very powerful. This was replaced by a 1.6-litre diesel in 2010, which is smoother but still a little wanting in terms of power. Second-hand diesel Superbs outnumber their petrol counterparts by almost 10 to one.
Skoda initially offered three trim levels. S includes electric windows, remote central locking, air-conditioning and cruise control, while SE brings rear parking sensors, half-leather seats and an infotainment touchscreen. SE Plus was launched in 2011, adding sat nav and Bluetooth connectivity, while finding a Superb in Elegance trim will get you these features plus heated leather seats, upgraded air-conditioning and larger alloy wheels. Top-spec Laurin & Klement models are rare, but even plusher inside.
A 2013 facelift made the rear less awkward-looking, simplified the Twindoor boot's opening procedure and brought the front of the Superb in line with Skoda's newer models. Stop-start became standard with the diesel engines at the same time, while a self-parking system was also offered. The Skoda Superb Outdoor was launched in 2014, with chunkier bumpers, four-wheel drive and plenty of equipment.
Which is the best Skoda Superb Mk2 version?
If you cover fewer than 12,000 miles a year, pick the 1.8-litre petrol engine – it's a gutsy and smooth performer with reasonable economy; diesel buyers should seek out one of the 2.0-litre engines for their blend of performance and efficiency. Whichever engine you choose, go for SE, SE Plus or Elegance trim.
Running costs
Aside from the juicy 3.6-litre petrol, no Superb is particularly expensive to run. The 1.4 and 1.8-litre petrols return around 40mpg and cost either £185 or £210 a year to tax, while the diesels manage between roughly 50 and 60mpg – GreenLine models sit at the higher end of that range. Note only the 1.6-litre diesel GreenLine is truly cheap tax, at £30 a year – other diesels will set you back around £110-145 a year in Vehicle Excise Duty.
Like many Volkswagen Group cars, the Superb could be serviced according to a schedule or based on the verdict of its on-board computer. We recommend second-hand buyers err on the side of caution, booking their Superbs in for maintenance annually or every 10,000 miles – whichever comes first.
Fixed-price servicing from Skoda means a minor check-up comes in at £149, while a major is £269. Replacing the brake fluid should set you back £52. A set of front brake pads is £125 from Skoda, while pads and discs are £235 and an air-con regas and service is £75. Independent garages are likely to be cheaper for parts, but the official servicing offers (correct at time of writing) are decently competitive.
The diesel engines are belt-driven and a cambelt change is £385 from Skoda, or £485 if you get a new water pump (recommended) at the same time. This is required every four years or so or at 90-130,000 miles, although there's some variation in precise scheduling. The 1.4-litre petrol engine can be either chain or belt-driven – check with the vendor to find out which. The 1.8-litre petrol is chain-driven, so there's no belt to worry about changing there.
Skoda Superb Mk2: what to look out for
The Skoda Superb is generally considered a very reliable car, with excellent ratings in our Driver Power customer satisfaction survey. In the 2016 poll, the Mk2 Superb came 20th out of 150 cars – an impressive result considering it had been replaced the previous year. The Superb is quite a sophisticated car, though, and problems aren't unknown. Although dealers are legally obliged to sell you a car that's 'fit for purpose' and of 'satisfactory quality', it may be worth getting a couple of quotes for an aftermarket warranty.
Firstly, be aware that the Mk2 Superb is enormously popular with taxi firms, so keep an eye out for very high-mileage examples with tatty interiors – although the professional nature of these cars should mean they've been maintained to a high standard, even if they've had a hard life.
Caravanners also like the Superb, particularly when it's fitted with a diesel engine. Be wary of cars with tow hooks, particularly if they've got the DSG automatic gearbox – it doesn't always react kindly to being asked to haul heavy loads.
Speaking of the DSG gearbox, feel for any vibrations, juddering or reluctance when taking off and changing gear, particularly at town speeds. A software patch is supposed to fix such issues, but in many cases just makes things worse and a worn 'clutch pack' may be to blame. Full DSG replacement isn't unheard of, and if this is required it's a £4,500 job.
If the car you're looking at has leather or part-leather seats, inspect the driver's seat side bolster closely for signs of excessive wear. Make sure you can get comfortable, too, particularly if you're over six foot tall. There's plenty of space in there, but the driver's seat doesn't go as low as some might wish, while the steering wheel doesn't move out enough either – these ergonomic foibles can make finding the perfect driving position tricky.
Check the alloy wheels closely, as these are known to suffer corrosion under the lacquer. The larger alloys of higher trim levels are also particularly susceptible to kerb damage; if this doesn't put you off, check the tyres carefully for any gouges in the sidewall that may have been incurred during kerbing. Similarly, the Skoda badge on the bonnet can look tatty, although you might be able to persuade a dealer to give you a new one for relatively little – out of pride, if nothing else.
Heated seats can stop working and if it's not the fuse or switch that's failed, removing the seat covers to replace the element costs around £500. Also be aware that it's easy for garages to fudge the brake's electronic connections when working on the car; this isn't a safety issue, but it (plus faulty ABS sensors) can trigger warning lights. At least fixing any faults that occur as a result of this should be cheap. Another electrical gremlin: models fitted with keyless go have been known not to recognise the fob is inside the vehicle – this can be an intermittent fault though, and is therefore hard to check.
Finally, make sure the hatchback's complex 'Twindoor' opens properly in both modes. While no known problems have been reported with this, it'd be a daft omission from any checklist.
The Superb has a couple of other useful tricks: if you hold the lock button on the key, any open electric windows will close. Similarly, holding the unlock button will drop all the windows to cool the interior in before you get in. If the windows are already shut and the driver's wing mirror knob is in position 'L', holding the lock button folds the mirrors in. The system isn't without glitches though, as mirrors can fail to fold and windows sometimes don't close or open properly. If either of these problems present, simply opening all the windows fully before closing them again should remedy matters.
Two more minor eccentricities: that clever boot means there's no windscreen wiper at the back, so rear visibility is a little bleary in the rain. Also, don't be worried if the dashboard display urges you to 'Check deadlock! User manual' when you switch off the ignition – this is just a quirk of the car, or a 'Skodaism', as some might say.
The Mk2 Superb has been recalled three times. Five individual cars built between July 2008 and February 2009 needed attention due to a potential fire risk, automatics made from September 2008 to August 2009 could lose power and need a software update, while a potential fuel leak was found in 2.0-litre diesel Superbs built from the start of 2009 to the end of 2011. See the DVSA's recall checker tool for more information.
Alternatives
To get a car with a similar amount of interior space to the Skoda Superb, you're probably going to have to move up a class. The Audi A6 is a great car with a plusher interior and more desirable image, but it's much more expensive and – the Avant estate model aside – has a less practical saloon boot. Sticking with VW Group cars, the Volkswagen Passat isn't quite as commodious, but it's arguably a little smoother to drive and nicer inside. Again, it costs more than an equivalent Superb.
If you're after similar space at a similar price, you could consider the Citroen C5. It's not as good to drive as the Superb and nor does it feel as solidly put together, but second-hand values for the big Citroen are low. The Ford Mondeo is also worth a look: it has a reputation for being more involving to on the open road than the Superb and there are thousands to choose from, even if such ubiquity won't be to everyone's tastes.
Verdict
The second-generation Skoda Superb hardly puts a foot wrong. True, the complex DSG automatic gearbox may cause sleepless nights if you get one without a decent warranty, and some of the interior plastics betray the Superb's value-for-money-credentials, but aside from that, buy away. There are few cars – in this or the one above – that offer the space and comfort of the Superb. It's also faster and better to drive than most people give it credit for, particularly if you can find an automatic 1.8-litre petrol model.
When the Skoda Superb Mk2 first went on sale, it cost between £17,110 and £32,775. Today, used examples range significantly in price, however you can expect to pay from £2,500 to £15,000. For up to date deals on used Skoda Superb Mk2s, visit our sister site Buyacar.co.uk.
Updated Peugeot 5008 starts at £29,585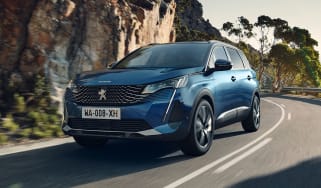 Updated Peugeot 5008 starts at £29,585
Cupra Formentor SUV review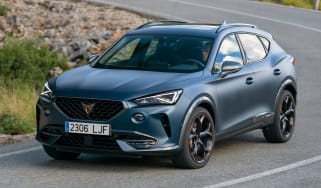 Cupra Formentor SUV review
2020 Volkswagen ID.3 hatchback: base model starts at under £30k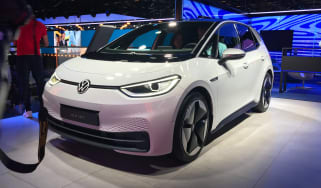 2020 Volkswagen ID.3 hatchback: base model starts at under £30k