Used SEAT Alhambra buying guide: 2010-present (Mk2)
The Mk2 SEAT Alhambra MPV offers a vast seven-seat interior, lots of standard equipment and a surprisingly decent driving experience
We rate the SEAT Alhambra very highly. It frequently features in our top 10 best buy lists, we named it the cream of the MPV crop back in 2012 and we've given it a higher score than almost any other MPV on sale today (it is pipped to the post by the slightly smaller Citroen Grand C4 Picasso).
Why so much praise? Well, for starters, it's extremely practical, with seven spacious seats and sliding rear doors as standard, a host of clever storage solutions and one of the biggest boots of any car on sale today.
The second-generation Alhambra is also very enjoyable to drive for such a large car, while equipment levels are generous and safety is top-notch, with a five-star rating from Euro NCAP. The fact that it's a fair bit cheaper than the mechanically identical Volkswagen Sharan is the icing on an already appealing – and large – cake.
SEAT Alhambra Mk2 history
SEAT introduced the Mk2 Alhambra in late 2010 with two 2.0-litre diesel engines – producing either 138bhp or 168bhp – and a 1.4-litre petrol with 148bhp. A six-speed manual was standard while a DSG automatic was an option with all three engines. The more powerful diesel got an extra a 7bhp in early 2013.
Three trims were offered at launch, and all are well equipped. Even the most affordable trim, S, includes 16-inch alloy wheels, front and rear parking sensors, heated and electrically adjustable wing mirrors, all-round electric windows, three-zone climate control, Bluetooth phone connection and an eight-speaker stereo. Impressively, all five of the rear seats have ISOFIX child-seat mounts.
SE adds automatic lights and wipers, 17-inch alloy wheels and cruise control, while top-spec SE Lux brings electronic opening for the rear doors and boot, a panoramic sunroof, sat nav and leather seats that are heated in the front.
The 1.4-litre petrol engine was discontinued in 2013 but reappeared in the summer of 2015 when the Alhambra was given a facelift. Its revisions also brought autonomous emergency braking as standard, improved economy and more power for the diesels, with the 2.0-litre engine now producing either 148 or 181bhp. The infotainment-focused Connect and Sporty FR Line trims were introduced around the same time.
Which is the best SEAT Alhambra Mk2 version?
The second-hand Alhambra market is dominated by diesel cars, but don't discount the 1.4-litre petrol if you drive mainly in town or make long journeys only occasionally, because it's smooth and capable at lower speeds. In truth, though, the diesel engines suit the car better. The more powerful of these shifts the Alhambra from 0-62mph in under nine seconds when paired with the automatic gearbox. If you do a lot of motorway miles, you're likely to appreciate the extra grunt of the 168/181bhp diesel, though the 138/148bhp version is more common so you'll have more examples to choose from.
In terms of trim, don't feel hard done by if you find an Alhambra S you like the look of – higher trim levels may bring more kit, but the standard car is still generously equipped. If the Alhambra you're looking at comes without sat nav and this is an option you'd like, it's fairly easy to find and fit a second-hand infotainment system that has this feature.
If spirited driving is important to you, look out for Alhambras with the more powerful diesel engine in SE Lux and FR-Line trims (and earlier SE cars) as these models come with an electronic limited-slip differential. This sporty mechanical component directs adjusts the amount of power to the wheels depending on how much grip is available – it's an extra more commonly found in Porsches than people carriers.
Running costs
As a large, relatively heavy car, the Alhambra will use more fuel and wear out its tyres quicker than a lighter, nimbler hatchback, for example, but it's by no means expensive to run.
Petrol Alhambras from before the car's facelift return around 39mpg, while the 138bhp diesel manages 49mpg and the 168bhp does 47mpg. In both the petrol and the lower-powered diesel, the DSG automatic gearbox causes only a negligible drop in economy (by one or two mpg).
Road tax is £210 a year for the petrol engine, £145 for the 138bhp diesel and £185 for the 168bhp model – but bear in mind that the automatic gearbox pushes the petrol car's CO2 emissions high enough to put it in the £230 tax bracket.
If you're looking at a facelifted Alhambra, the petrol engine does 44mpg, the 148bhp diesel 55mpg and the 181bhp engine 53mpg. Updated Alhambras are also liable for less road tax, with the petrol engine costing £145 or £185 annually depending on trim and wheel size, while both the diesels cost £130 a year.
The Alhambra's maintenance requirements can be determined by the on-board computer. This allows a maximum of two years or 20,000 miles between check-ups but we'd recommend owners of second-hand car owners get their vehicle serviced annually or every 10,000 miles. More recent models cost £179 to put through a minor service and £239 for a major, while Alhambras over three years old are £159 and £269.
All of the Alhambra's engines are cambelt-driven, and a belt change is required every five years or 60,000 miles. This costs about £330 for the petrol engine and £400 for the diesel.
A new set of brake pads comes in at around £95 from SEAT, while discs are roughly £170. The cost of those parts could halve if you use an independent garage.
SEAT Alhambra: what to watch out for
Happily, there isn't much to worry about on the Alhambra. It has a strong reputation for reliability and has never been subject to a recall by SEAT.
Cars with the panoramic sunroof should have their interiors inspected carefully for any signs of water ingress, as leaks aren't unknown; the insides of the front pillars (on either side of the windscreen) are the best place to spot this.
On your test drive, listen out for rattling from the suspension when going over bumps, as this is probably due to a worn suspension component called the droplink, though replacing these is relatively cheap. Some models use run-flat tyres, which are slightly more expensive than conventional ones.
The manual gearbox is more reliable than the DSG automatic, which can cost thousands to replace if it goes badly wrong; consider an aftermarket warranty if you're buying an Alhambra with this.
Alternatives
The Ford Galaxy is definitely worth considering. It's just as spacious inside as the Alhambra and slightly better to drive, though it has conventional rear doors rather than sliding ones.
If you only really need to transport children in the third-row seats, the smaller Ford S-Max is a genuinely enjoyable car to drive, while if you'd like an Alhambra with a badge that some perceive as being more desirable, the Volkswagen Sharan is also worth a look. It's virtually identical to the SEAT, inside and out, but you'll pay more for the VW name.
Verdict
The rise of the SUV may have caused big MPVs to fall out of favour recently, but cars such as the Alhambra offer easier access to the rearmost seats than any other kind of car. If this appeals to you, the Alhambra is the best used full-size MPV you can buy.
Best new car deals 2022: this week's top car offers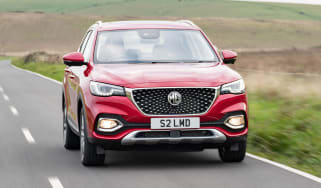 Best new car deals 2022: this week's top car offers
Top 10 best electric family cars 2022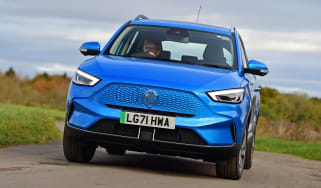 Top 10 best electric family cars 2022
Nissan Ariya vs Volvo XC40 vs Volkswagen ID.4 - which is best?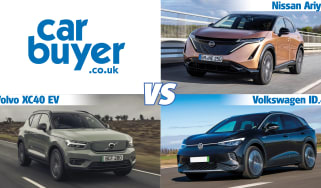 Nissan Ariya vs Volvo XC40 vs Volkswagen ID.4 - which is best?