Used Dacia Sandero buying guide: 2013-present (Mk1)
The Dacia Sandero is just the ticket for used car buyers craving substance over style
Renault really was thinking outside the box when it launched Dacia, its low-cost brand, in the UK. With so many aspirational brands to choose from and even the mass-market marques becoming upwardly mobile, launching a car to sell primarily on value seemed a strange choice. But, as the explosive popularity of Primark and other budget high street brands has demonstrated, British buyers love plenty of bang for their buck.
Dacia has Romanian origins but a long history of building Renault cars under licence. It became part of the French company in 1999, making waves on the Continent with the first generation of Dacia Logan, one of the cheapest cars in Europe. It sold like hotcakes; key to its success was that it didn't shout about its low cost. Instead, its image was simply of an inoffensive, safe, reliable and thoroughly modern car.
The same is true of the second-generation of Dacia Sandero, which became the first Dacia to be sold in the UK. In terms of value-for-money it's hard to beat, offering Volkswagen Polo size for Volkswagen up! money, along with modern engineering, efficient engines and excellent levels of practicality. The cheapest trim level, Access, is basic in the extreme, but this is deliberate and means you're not paying for features you might not want. There's certainly no shortage of space, though, and the 320-litre boot grows to a huge 1,200 litres if you fold down the back seats.
Our Driver Power survey tells us that Sandero owners are generally delighted with their cars. If you're considering joining them, follow our guide to choosing the right Dacia Sandero for you.
Dacia Sandero history
The first UK-specification Dacia Sandero models arrived in dealerships in January 2013, with a choice of a 1.2-litre petrol engine with 73bhp, a 0.9-litre petrol with 90bhp or a 1.5-litre diesel with 90bhp. Trim levels at launch consisted of entry-level Access, plusher Ambiance and range-topping Laureate models, while the chunky-looking Stepway carried some of the visual appeal of a rugged SUV without the mechanical means to back it up.
The engines were brought up to Euro 6 emissions standards from August 2015, improving fuel economy at the same time. Ambience Prime was added to the range in April 2016 and added smart alloy wheels, front foglights and metallic paint to the standard Ambience trim.
Which is the best Dacia Sandero for me?
There is just one body style in the Sandero model line-up, and all cars are manual, which makes life simple since all you need to work out is which engine and trim level suits you best.
If you can live without air conditioning, electric windows, alloy wheels and even a stereo, you might appreciate the ultra-low cost of the Access. It still has an electronic stability programme and tyre pressure monitoring like the rest of the range, as well as a useful split-folding rear seat. The bumpers are finished in matt black and the wheels are steel, making the Access a real no-nonsense car designed for robustness and practicality above all else.
Ambiance models have body-colour bumpers which, despite being more prone to scratches, looks a lot smarter, and this trim also has electric front windows, upgraded seat upholstery, remote central locking, Bluetooth, and a stereo. Laureate models add alloy wheels, electrically heated and adjustable door mirrors, air conditioning, cruise control and a trip computer, plus height-adjustable front seats.
If you need leather seats, a touchscreen infotainment system or rear parking sensors you'll want a Laureate as these are among the options reserved only for this trim level. Alternatively, the special edition Laureate Prime included the infotainment system as standard, plus electric windows in the back as well as the front and a smarter interior trim than the standard Laurate. It also came in its own metallic blue colour, 'Cosmos Blue'.Another Prime version, this time for the Ambience trim, was added in April 2016 and includes smart alloy wheels, front foglights and 'Chestnut' metallic paint.
The sturdy-looking Stepway version was offered only with Ambiance or Laureate trims.
The most affordable cars will be 13-plate examples of the Sandero 1.2 Access – the low price of the 1.2 engine made it a more popular choice for buyers looking for an affordable new car, and it's now the most common on the used market. The 0.9 TCE engine is the pick of the bunch, though; it has far more punch than the 1.2 and is much quieter than the 1.5 dCi diesel. Prices tend to echo the greater desirability of the 0.9. Most Sanderos have been run by private owners, so mileages tend to be relatively low.
Running costs, maintenance and parts
All Sandero engines are impressively economical, the 1.5-litre dCi diesel in particular, returning up to 80mpg while producing emissions low enough for road tax to be free. At around 47mpg the 1.2-litre petrol is less economical than the more sophisticated 0.9-litre, which can achieve over 54mpg. The smaller engine is cheaper to tax, too, at between £20 and £30 a year, while the 1.2-litre will cost at least £110 every year.
The 1.2-litre hits back by offering cheaper insurance which ranges from group two to group five. The most expensive Sandero to insure will be the 1.5-litre dCi diesel, some models of which sit in insurance group 12.
Every Sandero will need a service every 12 months or 12,000 miles, whichever comes round sooner, with services alternating between minor and major. Brake fluid will need changing every 72,000 miles or four years and the coolant must be renewed every five years. The 1.2-litre petrol and 1.5-litre diesel engines each have a cambelt, and this will need changing every six years/72,000 miles for the petrol or six years/90,000 miles in the case of the diesel. This brings another string to the bow of the 0.9 TCe petrol engine: it's chain-driven so there's no cambelt to worry about.
What to look out for
The Sandero doesn't look or feel much more cheaply built than any other car from the Renault empire, but there are a few weaknesses that should be checked on any used example you consider buying. The most serious is that early cars have occasionally been plagued by rust, so check every seam, panel edge, window seal and bolt-hole for signs of rust or rusty water stains.
All models have a tyre-inflation kit in place of a spare wheel but there is a space for a spare, which dealers will be only too happy to sell you. Your Dacia dealer will also be able to extend the three-year/60,000-mile warranty on your car – you can choose extra cover for five years/60,000 miles or seven years/100,000 miles.
The slightly taller Stepway model has quite a high loading sill for the boot, which can make it awkward to haul heavy items in and out, and it can get damaged in the process. You can buy stick-on protectors, however, and they're well worth the investment.
Some owners find the Sandero's headlamps a little dim and have fitted aftermarket bulbs. Well-known brands such as Osram Silverstar are the ones to go for.
Recalls
Despite being built down to a price, the Dacia Sandero hasn't been the subject of any UK recalls – a remarkable feat when you consider that, as a company, Renault has issued no fewer than 24 product recalls since 2013. It's a reassuring sign that cost cutting doesn't necessarily mean poor standards.
Alternatives
Few rivals can match the Sandero's sheer value for money, and most equivalent cars will tend to be older or higher in mileage than an equally priced Sandero. However, there are still many alternative choices out there if you don't mind a slightly older car.
The Hyundai i20 and Kia Rio are fine cars and have the added benefit of a very comprehensive factories warranties from the factory: The Hyundai boasts a five-year policy while the Kia is covered for a full seven years or 100,000 miles. Both are a little more costly to buy than the Sandero, though.
The Peugeot 207 and its later replacement, the 208, are in plentiful supply and are much better appointed inside than the Dacia. They also have some excellent engines. The same applies to the Renault Clio – it uses the same modern 1.5-litre diesel and 0.9-litre tCe petrol engines as the Sandero but feels a considerably classier inside.
The Ford Fiesta is a household name and deservedly so – it's a terrific car to drive and now comes with some efficient and technologically advanced engines. The Vauxhall Corsa offers a similar package and feels very well screwed together, but places less emphasis on fun than the Fiesta.
Verdict
The Dacia Sandero has already earned itself an excellent reputation among its owners. They voted it into a very impressive 30th place overall out of 150 cars covered by our 2016 Driver Power owner satisfaction survey. The star statistics include a stunning ninth place for running costs and 19th place for reliability, eclipsing the results of far more expensive cars. Ride quality and practicality were also widely praised. These four factors alone make the Dacia Sandero an excellent choice, while its extremely low purchase price makes it a terrific buy.
The Sandero has more than enough space inside for an average family, it's pleasant to drive and won't disgrace your driveway. Whether you choose an entry-level Access model with its 'less is more' philosophy, or the Laureate, which demonstrates that low cost needn't mean cutting corners on luxury, there's a Sandero out there to appeal to most tastes and undercut many a budget. With assured reliability and a flexible, extendable warranty, the Sandero makes a lot of sense.
Updated Peugeot 5008 starts at £29,585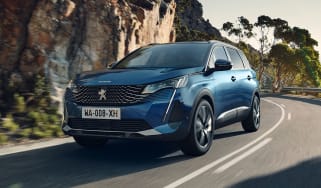 Updated Peugeot 5008 starts at £29,585
Cupra Formentor SUV review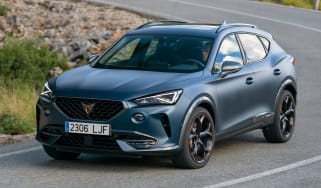 Cupra Formentor SUV review
2020 Volkswagen ID.3 hatchback: base model starts at under £30k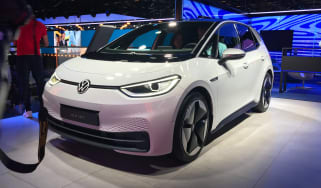 2020 Volkswagen ID.3 hatchback: base model starts at under £30k