Best car pressure washers to buy
Ready to get serious about cleaning cars? The best car pressure washers will speed things up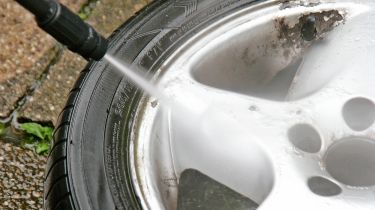 Most car owners have experienced the frustration of trying to clean their car with buckets of water, or a hose with so little pressure the water barely reaches the roof. Not only does this take ages, the water often dries to reveal the car looks almost as dirty as it did before.
Attach your water supply to a pressure washer, however, and even cleaning a filthy SUV can seem like good fun, as you blast away mud and grime while your hands stay warm and dry, even reaching deep into recesses like dirt-caked wheelarches with ease.
Used carefully, a pressure washer should also be much kinder to your paint, first loosening any abrasive dirt and grit with an emulsifying soap and then gently washing it away from the surface. This is crucial, because you should always be very careful to avoid scratches by rinsing debris away before you touch paintwork with a wash mitt or sponge.
A pressure washer can also save you money and even help the environment by using less water than a traditional hose or bucket. While this might seem counterintuitive, a pressure washer makes water work far harder and only sprays a fine jet.
How we tested them
While the manufacturer's claimed flow rates, motor specifications and pressure ratings can give an indication of a pressure washer's potential power, we resorted to cleaning grimy paving slabs to test their actual cleaning ability in the real world, along with their ease of use.
We also measured their hoses and accessories to ensure they keep you at a comfortable and safe distance from your car and can be stored away easily. The quantity and quality of included accessories were also taken into account: our testing team preferred washers with built-in detergent tanks, which automatically feed your chosen additive into the water.
1. GMC GPW165 review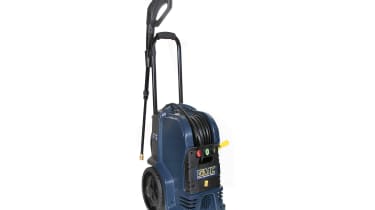 Price: around £173
Rating: 5/5
We were really impressed with the GMC GPW165 - it's one of the best pressure washers for cars and patios you can buy right now. It provided strong and efficient cleaning power, and makes light work of dirty cars. A turbo nozzle helps with tougher jobs. For the price, there are few other pressure washers that include so many accessories. It features an eight-metre hose with an inbuilt reel, a lengthy 10m power cable that can be reeled in easily, a flow-through brush and a rotary brush, amongst other things. GMC is Silverline's sister company, but we'd recommend this heavy-duty pressure washer if you can afford it.
2. Hozelock Pico Power review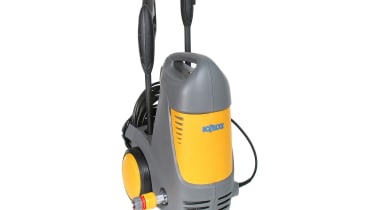 Price: £150
Rating: 4.5/5
Showing that pressure washers don't have to be large, the compact Hozelock Pico Power is one of our best buys. It might be one of the smallest products in this list, but it's very well designed - one of the lances acts as the carry handle - and features space for the standard and turbo nozzles, a six-metre hose, five-metre power cable and the clip-on detergent sprayer. The Pico Power also includes a patio cleaner, although this'll have to be stored separately. While the power isn't class-leading, it's easily enough for car-cleaning duties.
Partnership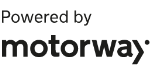 Need to sell your car?
Find your best offer from over 5,000+ dealers. It's that easy.
3. Karcher K4 Full Control Home review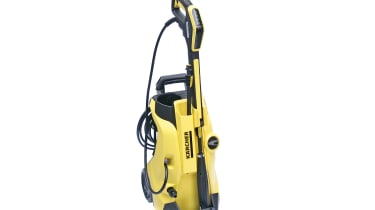 Price: £233
Rating: 4.5/5
Previously a winner in this test, the innovative Karcher K4 is fitted with an LED display on the lance called Full Control, which shows you the amount of water pressure and indicates safe surfaces to use the jet of water on. It told us its full-power fan wasn't recommended for use on cars, instead suggesting medium as the safest setting. Stepping down to this pressure still allowed quick and effective cleaning, with the reassurance we weren't about to strip the paint. While this is a nice feature, the main reasons the Karcher pressure washer finished so highly were its simple design and overall quality. However, its price has increased over the last few years, so it's not as good value as it once was.
4. Makita HW111 review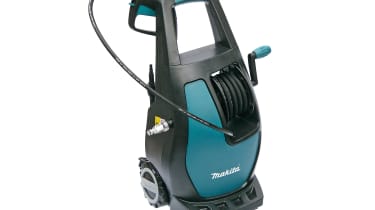 Look at its specs (a 1,700w motor with a 370 litres per hour maximum flow rate) and you might dismiss the Makita, yet its ability to clean stubborn grime wasn't far off the best models in this test. Not only that, but the Makita has a simple yet well resolved design, with a high-quality hose that resists annoying kinks and a squat stature which helps it stay upright if you tug at the hose. The main downside of the Makita is the slightly stingy list of accessories included, although the price goes some way to explaining that.
5. Nilfisk E145.4-9 X-TRA review
Nilfisk is a company that specialises in professional and semi-professional gear, and this is a great choice if money's no object. Although the Makita has slightly more cleaning power (despite its modest claimed figures), the Nilfisk put in an excellent, consistent performance. It exudes quality in the way it's built and operates, with a power cord storage system that might have been inspired by a Dyson vacuum cleaner. The high-quality nine-metre hose is generous, too, and mounted to a fully-plumbed reel. Clever design even prevents the washer from toppling over when the hose is fully extended at an awkward angle. Only the slightly basic clip-on detergent bottle disappointed at this premium price point.
6. Clarke JET9500 review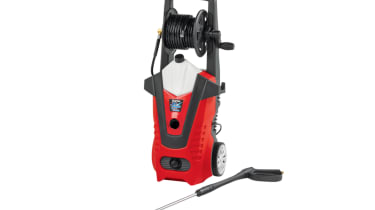 Price: £215
Rating: 3.5/5
Perhaps the JET9500's best feature is its substantial, high-quality feel, with metal connectors and an eight-metre rubber hose that's resistant to kinking. The machine is well balanced, too, feeling stable when the hose is extended. The spray lance can be adjusted from a powerful needle point to delivering a foam on its lowest setting, but the way it defaults to a needle spray when high-power is selected could cause damage unless care is taken. A powerful 2,400W motor gives it plenty of grime-shifting grunt, though.
7. Silverline 2100W Pressure Washer review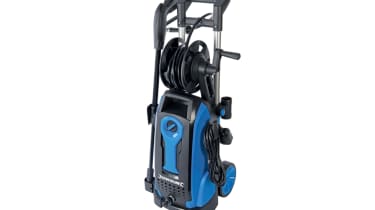 The Silverline will be welcomed by those on a tight budget, as it's the cheapest in our test by some margin. It's a fairly basic machine, though, with a shortish five-metre hose that's prone to becoming tangled. It has a habit of dropping into low-power mode, too. Still, it put in a solid cleaning performance, with a thick foam delivered by its on-board reservoir.
8. Bosch AQT 42-13 review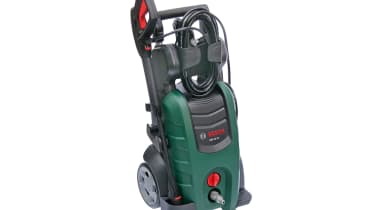 Price: around £170
Rating: 3/5
Small in stature and neatly designed, the Bosch is a great choice if you're short on storage space. Its light weight makes it easy to lift onto a high shelf. It also managed to put in a performance beyond what its modest specifications suggest – its 130bar pressure and 360-litre flow figures are among the weakest in our test, but it blasted through our grime removal task quickly and effortlessly. It's not the quickest machine to set up or put away, though, with a hose that needs to be manually coiled and extended.
Sprucing up your car? You'll want to read our guides to the best alloy wheel cleaners, car polishes and waxes and car leather cleaner, as well as our advice on how to carry out scratch repairs.
Tesla Cybertruck finally delivered: specs, prices and UK availability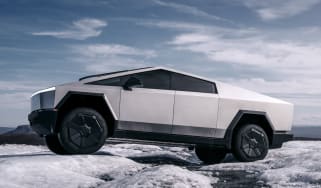 Tesla Cybertruck finally delivered: specs, prices and UK availability
Engine management light: top 5 causes of amber engine warning light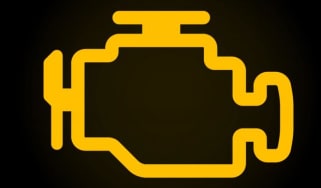 Engine management light: top 5 causes of amber engine warning light
Best new car deals 2023: this week's top car offers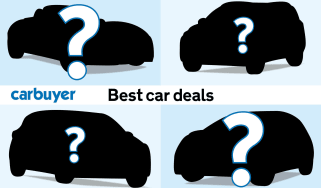 Best new car deals 2023: this week's top car offers