Best LED head torches to buy
If you're a home mechanic or spend time on the roads after dusk, an LED head torch can help you see and be seen
Even when working on a vehicle in a lit garage or outdoors, there are lots of parts of the car under the bonnet, wheelarches and chassis obscured by darkness.
For situations like this, home mechanics have traditionally reached for an inspection lamp, but in recent years head torches have become much more popular. They are lightweight and shine light exactly where you are looking, leaving your hands free to work with tools. Huge advances in LED technology in recent years have made head torches more compact, durable and brighter.
Even if you don't consider yourself handy with a wrench, an LED head torch is a great thing to keep in your glovebox for any roadside emergencies like a puncture. Not only will you be able to see what you're doing, but most also come with a strobe function if you want to warn other road users of your presence.
How we tested them
We practiced working on a vehicle's brakes and inside its engine bay while wearing each head torch, checking the quality of light, the ease of adjusting and focusing the beam, practicality and comfort. We also measured the width of the beam at a distance of one metre on their widest and narrowest settings.
The inclusion of features like a strobe effect, red (or other coloured) light, power saving modes and accessories like a carry bag also scored extra points. All of the head torches we tested that didn't have a rechargeable battery came with disposable items included and we checked prices by browsing online shops.
Verdict
The Coleman put in a convincing show, taking test honours thanks to its sturdy build quality and impressive features. It was also priced reasonably well, helping it stay just ahead of the LED Lenser, with the NightSearcher close behind in third.
Read on for our list of the top ten LED head torches…
Coleman CXS+300R LED Head Torch review
Price: Around £26Power: Li-ion rechargeableRating: 5/5The top spot goes to a newcomer in the sector, the Coleman CXS+300R. We rate it as the best LED head torch available for a few reasons, chiefly because of the wide range of features it offers. The REAX feature automatically changes the beam from close-up to wide and, while there's no zoom, there's a floodlight mode and plenty of outside illumination. With 300 lumens, it's one of the best on test.
Other useful features include BatteryLock battery saving techniques and KineSix gesture control, which allows you to change settings without touching the headset. This is very useful if you've got dirty hands, but we did find it sometimes changed the settings when it wrongly detected movement. It's also splash-resistant and should survive being dropped from up to two metres.
LED Lenser SE03 review
Price: Around £25Power: 3 x AAARating: 4.5/5
As we've come to expect from the German brand, the LED Lenser is solidly built and boasts an IPX6 rating that means it should prove water and dustproof. The SE03 also came with a protective padded bag with a belt loop, while the top-mounted button activated the high or white light, flashing mode, constant or flashing red LED and a lock mode.
You can adjust the focus by turning a ring around the lens, changing it from a 13cm spot light to a 55cm wide beam in our one-metre distance tests. It's also easy to angle the beam up and down through eight increments. For just £20, the LED Lenser should be near the top of any motorists' shopping list.
NightSearcher Zoom-580R review
Price: Around £45Power: 3 x AAA/ Li-ion rechargeableRating: 4/5
With 580 lumens, the NightSearcher is comfortably the most powerful LED head torch in this test. In our distance test, it beat its competitors by a huge margin. Luckily, you can dial that down so you don't blind yourself indoors, and there's a warm-white setting to make reading easier.
The NightSearcher is arguably most versatile, considering it works with either normal or rechargeable AAA batteries. We were very impressed with it as an overall product, but it's slightly further down the list due to its noticeably higher price tag.
Princeton Tec Fuel review
Price: Around £23Power: 3 x AAARating: 4/5
Registering a scant 74g on our scales, the Tec Fuel was the lightest torch we tested, which pays dividends for comfort. Despite its light weight, it's not short on features, feels sturdy enough and comes with a comforting five-year warranty.
With the same IPX4 rating as the Sync model we also tested, the Tec Fuel can angle through 90 degrees over 10 notches and the power switch is easy to find thanks to its central position. You can't adjust the focus manually, but the four LEDs can be switched through three brightness levels, and on max power there's a 14cm spot surrounded by a 50cm spread of light. It would have been a contender for first place if its price had been a touch lower.
Ring Cyba-lite Sensor Infrared Head Torch RT5160 review
Price: Around £23Power: 3 x AAARating: 4/5
As well as being a good price and feeling well-balanced, the RT5160 boasted a unique feature - the ability to change its intensity from 100 to 10%, making it ideal for power saving. Seven clicks of vertical adjustment made it easy to change the angle through 90 degrees, and the light itself was one of the brightest we tested. Turning the focus ring changed the beam from an 18cm spot to a 46cm flood.
The gesture on/off feature is a great idea if you regularly use a head torch with oily, muddy or wet hands, but it isn't perfect, because the torch sometimes turns off when you go to change its focus or use tools near it.
Laser Headlight Torch 6808 review
Price: Around £16Power: RechargeableRating: 3/5
Previously the top rechargeable head torch we tested, the Laser Headlight was topped up in three hours using the supplied USB lead. Its built-in battery clearly didn't badly effect weight, because at 83g it was the second lightest, yet still had a top strap more typical of bulkier head torches. Resembling a small camera, its functions are accessed by a single button, but this means it's a pain cycling through high, low and strobe settings just to turn it off.
Build quality appeared reasonable, but a choice of only four angle positions could prove limiting. The focussed spot was narrow at 6cm, but so was the wide beam at only 38cm. Despite this, a highly competitive price help's the Laser's case.
Ring Cyba-lite Oculus RT5138 review
Price: Around £18Power: 3 x AARating: 3/5
The Oculus is an older design (it won our head torch test almost a decade ago), which explains its bulky design and 195g weight - the heaviest we sampled. It doesn't feel out of balance though, with the battery pack at the back of the strap, but this setup did make it more difficult to use when sliding under a car using a creeper in the workshop.
Ranging from 24 to 47cm wide, the white beam has a very limited spread, but the Oculus is one of the few head torches with red, blue and green LEDs, which could come in handy for some users. Its nine angle adjustments and low price also help to make up for its bulky size.
Princeton Tec Sync review
Price: Around £28Power: 3 x AAARating: 3/5
The rectangular Sync doesn't have a focus control, but it does offer different white LEDs designed to provide either a spot or flood beam pattern, and a neat rotary control allows you to choose between these and either a full or reduced power mode - a system that we prefer to a push button.
Its 85g weight makes it admirably light and we found this and its wide headband made it one of the most comfortable to wear for longer periods. The beam can also angle through almost 180 degrees, making it very flexible. Its lack of manual focussing didn't affect us while working on the car, but the Sync was the most expensive torch with removable batteries.
Sealey Rechargeable Head Torch HT108LED review
Price: Around £31Power: RechargeableRating: 2/5
While most LED head torches are made out of tough plastic, the Sealey is mostly aluminium, which is very strong but also accounts for its 181g weight. In theory it can be angled any way you like because its simply held in place by rubber straps, but this means it can feel a bit wobbly if you move around a lot, or even plan to use your torch while walking or running.
Despite being pricey there's no focus control, but the combined spot and wide beam measure 15 and 53cm wide respectively. This was only middling, and meant there was often a compromise. The hands-free infrared on/off function was a bonus, but like the Ring, it could turn off accidentally from time to time. A lower price would have seen it place higher.
Michelin LED Head Lamp M40L44 review
Price: Around £40Power: RechargeableRating: 2/5
Another head torch that could easily be mistaken for an action camera, the Michelin came with a USB cable to top-up its built-in battery pack, a handy 12-volt car adaptor and a carry pouch. It's clearly aimed at the motorist then, and its six to 67cm focus beam impressed, making it easy to get the spread of light you need for any given task.
At 133g it's the third heaviest torch of the lot, but even more frustratingly, its long lens sat in our peripheral vision, especially when it was angled downwards. As with most LED head torches, it has just a single toggle button, but this often requires five presses to get to the setting you want. Ultimately though, it was the Michelin's price that really held it back.
New 2020 Kia Stonic SUV: prices and specs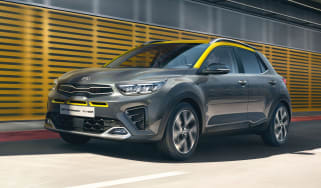 New 2020 Kia Stonic SUV: prices and specs
Updated Peugeot 5008 starts at £29,585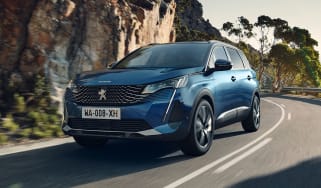 Updated Peugeot 5008 starts at £29,585
Cupra Formentor SUV review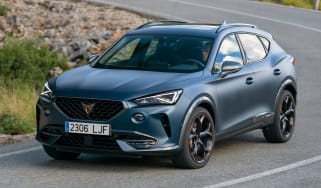 Cupra Formentor SUV review