Top 3 used long distance family cars for £15k
"Dear Carbuyer, I'm looking for a £15,000 for a family car to pile on the miles"
The family car job is perhaps the most demanding in the automotive world. Different families have different demands on their cars but almost all of them ask a lot, so a good family car has to excel in lots of areas. In this case, we're on the hunt for a roomy model with a pushchair swallowing boot that can also venture beyond the school run and cover high mileage numbers in comfort.
Carrying capacity is always important in this market and if your new family car fails the pushchair test it can lead to major problems. With so many different shapes and sizes of pushchair, it's important to get a model that will not only accommodate yours but do so without forcing you to wrestle it into the boot every time you need to travel anywhere. Outright volume can be less important that loading width so, if possible, try putting your pushchair in the boot before you buy.
When you need a long distance car, it's comfort that takes priority. We're looking for models with engines that keep the noise down and good sound insulation generally that helps to mute wind and tyre noise. You also want a well-judged suspension setup that cushions the bumps but remains composed and smooth without lapsing into the floating effect that can bring on car sickness. Decent fuel economy is also a must if you're doing big mileages.
Finally, you want a comfortable driving position with a supportive seat. It's very important to try the car before you buy to make sure that the range of adjustment in the seat and steering column allows a person of your specific dimensions to get comfortable.
With a £15,000 budget there are lots of models out there that fit this description. We're focusing on relatively new cars that shouldn't present too many problems and looking predominantly at the family hatchback and compact SUV classes where you'll find cars that are just big enough but economical and good to drive too. We think we've covered all the bases with these 3 choices...
Top 3 used long distance family cars for £15k
Citroen C3 Aircross: the practical choice
For: Tall, roomy cabin, frugal diesel, strong performanceAgainst: Patchy quality inside, average handling
One of our favourite compact crossovers, the C3 Aircross combines funky styling with one of the more practical bodies in its class. At 168mm taller than a Ford Focus, its body is high and really useful when fitting a child seat. The standard adjustable rear seatbacks come in handy here as well, and are unique in this class.
A choice of 1.6-litre diesels is available, the most frugal of which claims 70.6mpg. Your £15,000 buys a year-old C3 Aircross with fewer than 10,000 miles on the clock.
Inside, the C3 Aircross is more stylish than either of the alternatives here, although it trails overall in terms of quality. The infotainment system looks great, but isn't as well thought out as the Stonic's, and there are no physical shortcut keys.
THE C3 Aircross boasts a vast 520-litre boot, with a usefully square shape, and is enhanced by seats that fold almost completely flat. There's almost no loading lip to overcome, either. Reclining rear seatbacks could be added as an option, as could a sliding rear bench, so look for a car with these.
Ford Focus ST-Line: the driver's choice
For: Best ride and handling here, huge used choiceAgainst: Clunky infotainment, low body style
Hatchbacks were the default family car long before the crossover, and the recently replaced Focus still has a lot going for it. A lower body makes installing child seats more of a pain, but older kids will find it easier to climb aboard.
Then there's the way it drives; neither of the other cars here can match the Ford's mix of comfort and handling fun. The 1.5-litre diesel engine is smooth and refined, and the Focus is widely available second-hand, so a one-year-old ST-Line with 9,000 miles can be yours for under £15,000.
The previous-generation Focus shows its age inside; next to these rivals, its dashboard layout is fussy. The infotainment system is an older version of Ford's SYNC set-up, and is the least appealing to look at and the most frustrating to use.
At 316 litres with the seats in place, the Focus's luggage area is the smallest out of this trio, although there's space for a stroller and some other baby gear, and the low floor makes it fairly easy to lift heavy items inside. The seats fold down almost completely flat when carrying bigger items.
Kia Stonic: the high-spec choice
For: Lots of kit, long warranty, infotainment systemAgainst: Jittery ride quality, rather bland interior
Even though the Kia Stonic is one of the more recent crossovers to hit dealers, a year-old version with about 15,000 miles in top 'First Edition' spec is within budget. It benefits from Kia's generous seven-year warranty, which gives real peace of mind on the new market and beyond.
The Stonic is taller than the Ford, lower than the C3 and has the most compact footprint here. This means that it's the easiest to manoeuvre in tight spaces. The 1.6-litre diesel is smooth and claims 67.3mpg fuel economy.
Contrasting trim on some models adds a splash of colour to an otherwise grey cabin design, although the Stonic has a logical layout inside. The infotainment system is great; it loads quickly, is smartly designed and easy to operate.
The Stonic features a roomier boot than the Ford, with a capacity of 352 litres, and there's only a small loading lip to overcome when lifting in bulky items. Child seats are easy to fit as well, because the rear doors open wide and the Isofix mountings are easily accessible.
Car dashboard warning lights: the complete guide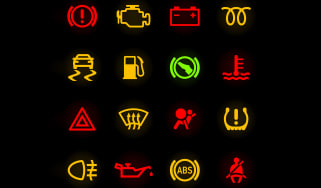 Car dashboard warning lights: the complete guide
Best new car deals 2020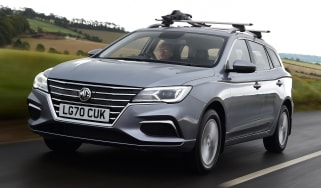 New Volkswagen Golf GTI Clubsport gets 296bhp and racetrack mode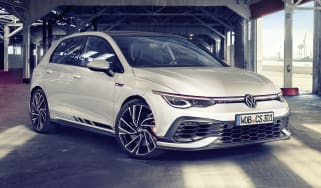 New Volkswagen Golf GTI Clubsport gets 296bhp and racetrack mode