Best tyre inflators 2020
The right tyre pressures are crucial and these are the best mini air compressors you can buy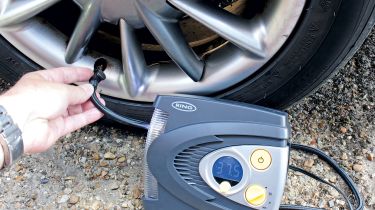 Tyre pressures are an aspect of car maintenance that can be easily overlooked but it's important to ensure your tyres hold the right amount of air. They're the only part of the car in contact with the road, and incorrectly inflated tyres can affect the car's handling, braking and fuel economy. If your tyres have different pressures, they could wear out at different rates, and they could even become illegal.
Underinflated tyres will result in a lower MPG figure and uneven wear will mean they need replacing sooner. A tyre inflator might seem like an expensive and unnecessary purchase but if it saves you money in the long run and keeps you safe, it's a worthwhile investment.
There are a wide range of different 12V mini air compressors and prices on sale in the UK, so which is the best inflator to buy? We compared them to find the ones you should consider.
How we tested them
To make it fair, we subjected all the compressors to the same tests, which included the time taken to re-inflate a tyre up to 30psi from 20psi, and how long it took to pump up and deflate a standard double airbed - a useful consideration if you go camping regularly. We measured the noise in decibels of each machine, using a smartphone app, and considered the price against performance, and any useful extras or features. Those with long hoses and sturdy power cables scored highly, while adaptors, easily readable screens and a case or bag also improved a product's rating.
Cordless compressors are becoming more useful and well priced, so we've included our top three products from both these categories. The tests were similar, and we were impressed by those that featured lights, adaptors, clear instructions and other extras.
Verdict
It's not often that three products on test gained the maximum 5/5 rating, but both Ring products and the cordless Ryobi were highly impressive. Between them, you should find one that suits your needs and budget, while the Sakura digital air compressor also performed nearly as well.
Best digital air compressors
Ring RTC1000 Premium Rapid Digital Tyre Inflator review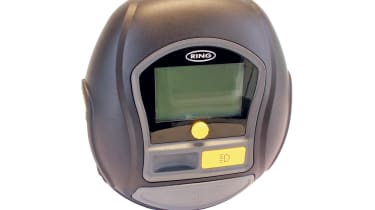 Price: £47Rating: 5/5Time taken to inflate tyre: 1 minute 50 seconds
Ring's latest 12V compressor sets the standard for the best tyre inflators. It's easy to use, well designed and offers impressive performance. The RTC1000 increased the tyre pressure by 10psi in well under two minutes and was one of the quietest products we tested. Accuracy is another strong point, being only 1psi out in both tests, and it comes with three adaptors, a few extra valve caps and gloves to use. The large display has blue backlighting to make it easier to read, while both the hose and power cable were among the longest on test. Rewinding the cable was a pain-free process, too. Its price is a bit on the high side, but it's new on the market and you do get what you pay for.
Ring 12v Preset Digital Air Compressor RAC 635 review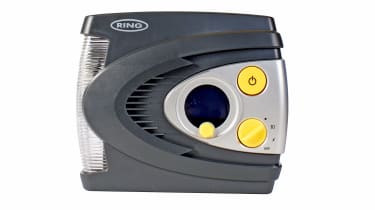 Price: £32Rating: 5/5Time taken to inflate tyre: 2 minutes 12 seconds
A previous winner in this test, the Ring RAC 635 is knocked off the top spot by the Ring RTC1000. A 70cm hose was one of the longest on test, as was the 3.5-metre-long power cable, which helped it to reach all four wheels on our test car with ease. The large display is useful, if sometimes a little hard to read, and it doesn't take too long to reinflate a flat tyre. It also came in a protective case with plenty of padding. One small downside is that it became quite noisy when inflating the tyre but you probably won't be using a compressor on a regular basis.
Sakura 12v Digital Air Compressor SS5332 review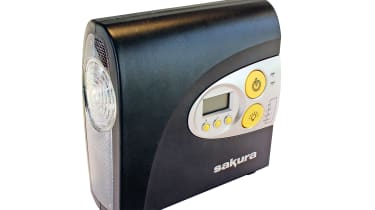 Price: £25Rating: 4/5Time taken to inflate tyre: 3 minutes 14 secondsThe Sakura is good value but in terms of performance, it can't compete with the brace of Ring products above. We found it took a surprisingly long time to pump up the tyre, although it is one of the most accurate on test - just 0.5psi out. The cable is three metres long, which is fine but not as long as other products, and it's the same story with the 60cm hose. At least it's a universal screw fitting and can deflate as well as inflate.
Best cordless tyre inflators
Ryobi R18I-0 One+ 18V Inflator (+ 4Ah battery & charger) review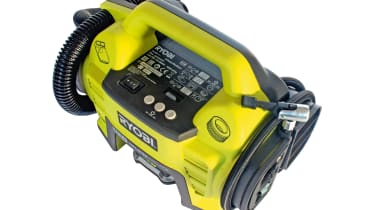 Price: £53 (+£93.94)Rating: 5/5Inflation time (tyre/airbed): 2 minutes 15 seconds/3 minutes 18 seconds
At first glance, we weren't too sure about the Ryobi because its display is small and there are no lights or USB connections. You can't use it from the car either. But this product offers more power than you'd ever need; after our tests it still had a full battery readout, thanks to its 4Ah battery. It's ever-so-slightly slower at inflating a tyre than the two Ring compressors, but very quick at inflating and deflating an airbed. The decision to buy this one or not will likely come down to whether you already have Ryobi One+ tools in your collection - they use the same battery, and the compressor doesn't come with it included.
Michelin 12267 Cordless Rechargeable Inflator review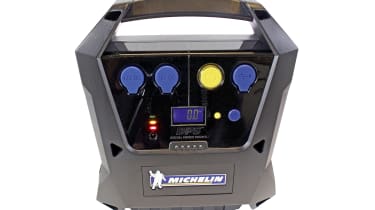 Price: £90Rating: 4/5Inflation times (tyre/airbed): 2 minutes 7 seconds/13 minutes 45 seconds
The Michelin is a strong runner up, and is better suited to pumping up car tyres than airbeds. It was brilliantly quiet and inflated the tyre in a good time, plus there are multiple 12V cigar lighter and USB sockets. The features don't stop there - a preset facility, three adaptors and three scales match the Ryobi's specification. Battery power is impressive too, as it was still reading full after pumping up the airbed - even though that took a long time. There's no deflation option, however, and the Michelin is quite heavy at 3.5kg.
Halfords Rechargeable Multi-Purpose Inflator review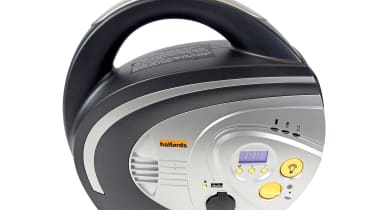 Price: Around £60Rating: 3/5Inflation times (tyre/airbed): 2 minutes 38 seconds/10 minutes 4 seconds
On paper, the Halfords product looks good - it's priced well, has plenty of adaptors and sockets, and can be charged via the mains or through a 12V socket. Other good points include its intuitive layout, clear display and its 1.8kg weight, but its performance isn't as good as we were expecting. Pumping up both items seemed to take a long time, and the compressor was frustratingly noisy too. Meanwhile, its battery isn't impressive - our tests drained half the battery - so it's a good job it can be charged in different ways.
Read our Buying Advice guides to find out all the best products to buy for your car.
New electric MG4 hatch to start at £25,995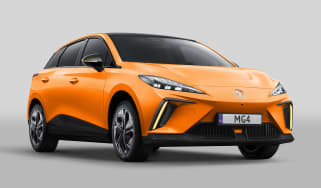 New electric MG4 hatch to start at £25,995
Best new car deals 2022: this week's top car offers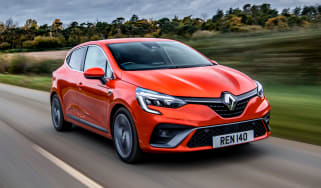 Best new car deals 2022: this week's top car offers
Kia EV4 SUV to take on the Volvo XC40 Recharge
Kia EV4 SUV to take on the Volvo XC40 Recharge