What is Ford SYNC 3?
Everything you need to know about the latest Ford SYNC 3 infotainment system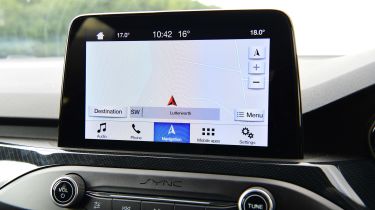 Ford SYNC was first revealed in 2007 when the digital connectivity revolution was in its relative infancy – at least as far as cars were concerned. SYNC 3 is the name Ford gives to its latest infotainment system, referring collectively to the touchscreen, software and ancillary elements that combine to offer drivers access to a range of features from climate control to audio streaming, smartphone connectivity and in-car navigation. It also offers you a choice of voice control, steering wheel control or touchscreen control as part of its core system functions.
The first-generation SYNC system developed as a joint venture between Ford and Microsoft. That relationship meant early versions called Ford SYNC and SYNC 2 were built using Windows Embedded Automotive operating system software. For the SYNC 3 version announced in 2014 Ford switched to an operating system called QNX developed by smartphone manufacturer BlackBerry.
At the time, Ford explained the switchover by claiming users weren't happy with the complexity of the previous Windows-based system. Upgrading to SYNC 3 was a major step forward in a critically competitive market where Ford had previously been struggling to keep up, making the system more simple to operate while improving the overall user experience. Rival infotainment operating systems may have sharper graphics and more advanced features, but Ford SYNC 3 has intuitive menus and clear – if unexciting – graphics that make it simple to get the most out of it.
What Ford SYNC 3 actually does and why you need it
Ford says the highlight of its SYNC 3 system is the dash-mounted eight-inch touchscreen which offers users the chance to operate it with gestures similar to a typical smartphone. That means you can 'pinch and swipe' to access screens for different apps or features, or to zoom into navigation maps. An advanced processor means the system is much more responsive than the previous generation, with Ford claiming it can respond to inputs up to 10 times faster.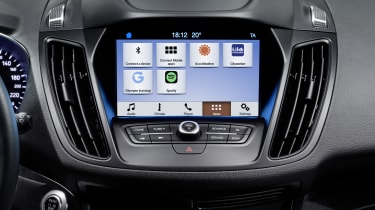 SYNC 3 AppLink is a feature that allows the system to connect to specific apps on your smartphone, displaying them on the main touchscreen as you drive. These apps can also be operated by the Voice Command system or the car's steering wheel controls. If you want to use other apps that are not included in the small but growing AppLink catalogue, then you can connect your smartphone using Apple CarPlay or Android Auto – the former using a USB cable connection, and the latter via BlueTooth.
Using SYNC 3 this way enables you to use your everyday iPhone or Android apps via the car's touchscreen, but unlike AppLink compatible apps you can't use voice control to operate them – you have to use the touchscreen instead. The system is also used to operate other onboard systems such as climate control, audio – whether that's onboard CD, DAB radio or streaming from a music player via Bluetooth or USB connection – and hands-free telephone calling via a paired mobile phone.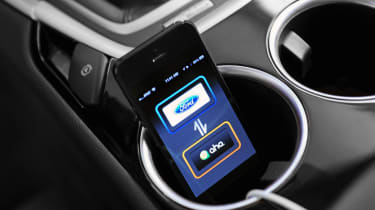 Using SYNC 3 navigation
SYNC 3 can be specified with or without a built-in navigation system, but if you have a nav-equipped version, then it is simple to operate with easy destination inputs via voice command or touchscreen. There's a 3D mapping option for some areas, and you can purchase SYNC 3 map updates online.
Many people prefer app-based navigation solutions these days, and Ford SYNC 3 allows you to access the popular crowd-sourced navigation app Waze via the AppLink service.
Alternatively, if you're a fan of Google or Apple Maps navigation, you can access them from your smartphone using Apple CarPlay or Android Auto.
Which models come with SYNC 3?
As it's Ford's flagship infotainment system, SYNC 3 is widely available across most of the manufacturer's passenger car line-up including the Fiesta, Focus and Mondeo model ranges.
SYNC 3 problems and faults
SYNC 3 works very well for most people, but occasional bugs can appear which will require system updates. This can be done from within the menu 'settings' and by selecting 'automatic updates.' Full guidance on how to update a SYNC 3 system can be found in your owner's manual or online.
Do you want to know more about the latest SYNC 3 equipped Ford models? Why not read our reviews of the Focus ST hatchback and Focus ST estate.