Best road atlas 2020
A traditional road map can still be very helpful - we picked out eight and put them to the test
While sat navs and smartphone apps have pushed them into decline, there are still many drivers who prefer to use an old-fashioned road atlas. Atlases may not be as advanced as a sat navs but they don't crash, freeze or misdirect you. Sat navs also only display a few miles of the journey ahead of you, whereas with a road atlas you can get a much bigger picture.
The best size atlases to get are either A4 or A3, and the latter typically work out at better value per page. Of course, they're also bulkier, and will take up more space in your car.
What's the best sat nav currently on sale?
As a general rule, spiral-bound maps are the best choice, since they fold over easily, but they also tend to be much less durable than perfect-bound versions and pages can tear out easily. So which road atlas is best? We put eight to the test.
Our test
Naturally, we wanted to see if these maps were up-to-date, so we picked out four current road projects. We also wanted to rate them by detail, so we searched for four little hamlets and the London Congestion Charge zone. City and town plans and approaches to bigger urban areas were point-earners, as were air/sea port and Channel Tunnel layouts.
We generally preferred the large-scale maps that offered more detail but value for money was an important factor too, which we worked at per A4 page (and A3 pro-rata). Bonus points were given to atlases that listed speed cameras, and even more if they displayed the actual speed limit. We also appreciated clear motorway junctions, with restricted ones listed separately.
Verdict
As in previous tests, it's A-Z that bagged the top two spots. They delivered up-to-date, large-scale mapping, and at no great cost. That said, the high-quality Collins Essential came a close third.
1. A-Z Great Britain and Northern Ireland Super Scale 2020
2. A-Z Great Britain & Northern Ireland Road Atlas
3. Collins Big Road Atlas Britain and N. Ireland 2020
1. A-Z Great Britain and Northern Ireland Super Scale 2020
Price: Around £15Scale: 2.5mpiRating: 5/5
Of all the road atlases in our test, the A-Z had the most pages and offered the best price-per-page ratio. It also had the most town plans, plus 16 air and sea ports. Furthermore, it had the joint largest miles-per-inch scale, which made using it very easy - especially the motorway junctions. These were displayed on the page rather than separately, and with limited access marked in red.
All maps had speed camera locations and limits, including all 70 town plans. We noted that the proposed roads and hamlets are all present, but just three approach maps were included (though London gets an impressive eight pages, with both the C-Charge and Ultra-Low Emissions Zone marked). Tourist-related information is limited to symbols by each location but the A-Z is still the best UK road atlas out there.
2. A-Z Great Britain & Northern Ireland Road Atlas
Price: Around £10Size/scale: A3/3.5 miles per inchRating: 4/5
This is the perfect-bound equivalent, which bore most of the features of the larger-scale A-Z atlas - speed cameras, points of interest, postcodes to help you with sat-nav location, 120,000 petrol stations - and at a price that's close to identical. We found that the town centre, port and airport plans were the same in number and layout. All the road projects and small hamlets were present and correct, too. We did notice the slightly smaller scale, but it didn't cause an issue - and made the atlas that bit lighter.
3. Collins Big Road Atlas Britain and N. Ireland 2020
Price: Around £15Scale: 3.2mpiRating: 4/5
As it uses a smaller scale, this atlas uses a few less pages than competitors on this list - though we found that it had an easy-to-use layout. Our four test hamlets were all present but unfortunately only one of the proposed roads was. Checking restricted motorway junctions on separate pages also turned out to be a bit of a hassle. But we liked extras such as the comprehensive ferry information and the separate listing of motorway services, as well as a page that detailed the riskiest roads. This atlas featured six airport plans and the Channel Tunnel, but no sea ports. Speed traps and limits were present in some cases across the 64 town plans.
4. AA Road Atlas Britain
Price: Around £9Size/scale: A4/3 miles per inchRating: 4/5
AA's A4-sized atlas includes our test hamlets, as well as the Congestion Charge zone and all four of our new roads, something that only the A-Z publications were also able to manage. It also features a hefty 80 town plans, and each and every one of them included a street index. If you factor in the caravan/campsites listing, as well as 29 sea, air and Channel Tunnel plans, the results go (at least partially) some way to justifying the 4.9p-per-page cost, which was the second-most expensive. In fact, even though it didn't feature any speed camera locations, it still almost knocked the Collins Essential from third place.
5. Collins Britain Big Road Atlas
Price: Around £7Size/scale: A3/3.2 miles per inchRating: 3/5
Featuring clear mapping at a good scale, this almost matched with the AA map above. This and the AA were very similar in terms of features, though this one also marked speed traps. However, it had only had 64 town plans, and unlike the A4-sized Collins, it didn't have any indexes. It did share the largest number of approach plans (21 altogether) and included the capital's Congestion Charge Zone. We found the M25 motorway schematic to be handy, as were the six airport plans. Sadly there were no seaport plans, and it didn't include one of the project roads we were looking for.
6. AA Big Easy Read Britain 2020
Price: Around £15Scale: 2.5mpiRating: 3/5
It should come as no surprise that this Britain-only AA atlas is clearly marketed at tourists who are driving across the nation. A good two pages detail camping and caravan sites, while many roads are labelled as scenic routes, and a list of tourist sites have their postcodes displayed. There's plenty of detail offered by the big 2.5mpi scale, and a solid 55 town plans are given, alongside 17 sea ports - though no airports, which seems odd given the target audience. All four test hamlets were shown, but like the Collins, only one proposed route. This would have earned an extra point if only speed camera locations were included.
7. Philip's Complete Britain & Ireland
Price: Around £15Size/scale: A4/3 miles per inchRating: 2/5
As is always the case with Philip's, the mapping was clear, and to a decent 3mpi scale. But we wanted to see more defined motorway junctions - and that price (6.3p per page) is the highest on the list by some margin. No speed cameras were included, though a list-beating 88 town plans were featured and indexed. We found that J11A on the M1 was erroneously shown as complete, and the new road in Wales was passed over, as well as the most obvious of our hamlets. We were impressed by the 10 approach roads - but it was a shame that there were no air, Channel Tunnel or port plans.
8. Michelin Great Britain & Ireland Main Roads Atlas
Price: Around £9Size/scale: A4/4.75 miles per inchRating: 2/5
Michelin's road atlas covers both the UK and Ireland, and although it had the least number of town plans (41), it was the only product on this list to feature Irish towns. The main drawbacks were that it had the smallest scale and missed two of our test hamlets. However, it did feature brand-new or proposed roads, as well as the M1's J11A as a projection. It's clearly pitched at tourists - despite the absence of sea and airport plans - with instructions in a number of different languages, 'scenic' routes and lots of points of interest.
Car dashboard warning lights: the complete guide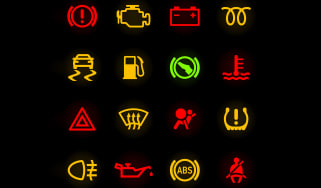 Car dashboard warning lights: the complete guide
Best new car deals 2020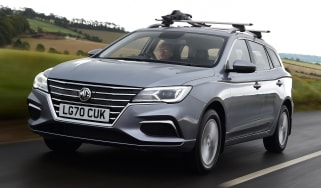 New Volkswagen Golf GTI Clubsport gets 296bhp and racetrack mode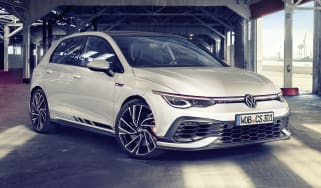 New Volkswagen Golf GTI Clubsport gets 296bhp and racetrack mode