Top 3 best automatic first cars for £3,000
Dear Carbuyer, I've just passed my test and am looking for a first car with an automatic gearbox. What can I get for £3,000?
A first car is often also the first big purchase you make and it's hard to forget the moment you get behind the wheel of your own car for the first time. Unfortunately, owning a car can be rather expensive. In order to be attainable for new drivers, a first car must not only be affordable to buy but cheap to run and maintain too.
The majority of cars within a £3,000 budget are either superminis or city cars. These cars are great for new drivers as, due to their compact dimensions, they're easy to drive and manoeuvre. Smaller cars are usually economical too thanks to their light weight and small engines; this keeps fuel costs low and avoids the expense associated with larger and more complex powertrains.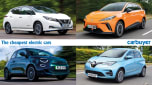 Top 10 cheapest electric cars 2023
Our reader is also requesting a car with an automatic gearbox. A manual gearbox takes more getting used to than an automatic and can be difficult or impossible for someone with a disability to use, so many people take the automatic-only driving test. While this does limit what cars you can drive, it can be the right option for some motorists.
Automatic gearboxes were historically reserved for more expensive cars due to their complexity. However, in the last couple of decades, manufacturers have begun to offer automatic gearboxes in many of their smaller, more affordable models. While small cars with automatic gearboxes don't represent the majority of the examples on the used market, it is possible to find a good deal on one with research and patience. 
We've compiled a list of three cars that tick all of the boxes for a good automatic first car, each with its own distinct character. Any of these cars would be a great choice for a new driver but read on to see our top pick.
The spacious choice: Renault Clio
For: Roomy cabin, spacious boot, five-star safety
Against: Vague steering, higher insurance group
The third-generation Clio has aged well thanks to its sleek looks but its appeal doesn't stop there. It's the most spacious of these cars, and earned the full five stars from Euro NCAP when it was launched, at a time when rivals only earned four. Your £3,000 gets an 09-plate 1.6-litre Clio in Expression trim with 50,000 miles on the clock, which is good value. The Clio handles well and has very good ride comfort, but the steering does need some correction at higher speed. The older NEDC tests rate the petrol engines at 47-52mpg and the diesels at 61-78mpg.
The Clio's 288-litre boot is the biggest here, while the cabin is also the roomiest for the driver and passengers. Storage is impressive, too, with a decent glovebox and large door bins. Lower-spec models have cheap, scratchy cabin plastics, but higher trims get nicer materials. Do note that while the thick windscreen pillars undoubtedly helped the Renault earn its five-star Euro NCAP score, some drivers find that they obstruct visibility. This Clio is also in group 13 for insurance, the highest here.
The quirky choice: Nissan Micra
For: Great over long distances, robust
Partnership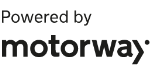 Need to sell your car?
Find your best offer from over 5,000+ dealers. It's that easy.
Against: Unsupportive seats, tight in the back row
You're likely to either love or hate the looks of the third-generation Micra but beneath its quirky styling sits a competent supermini. For less than £3,000 you can get a 56-plate Micra 1.4-litre in Spirita trim  with 70,000 miles notched up. One of the more impressive things about the Micra, considering its age and size, is just how refined it is over long distances. Opt for a diesel model if you intend to do this, because this engine officially returns between 58-62mpg on NEDC, while the petrols are rated at 41-47mpg.
In the front, the Micra's cabin is spacious and offers decent headroom, but the driver and passenger seats aren't hugely supportive; there could be more space in the rear, too. In addition, although the Micra's 251-litre boot is reasonable for a supermini, it's the smallest here. Build quality is good and the materials, while a little dated, should wear well. Insurance costs for a five-door automatic Micra such as this should be comparable with the Clio, because the Nissan sits in group 12.
The reliable choice: Volkswagen Polo
For: Well built, classy image, six-speed auto
Against: Unexciting design and drive, pricier than rivals
The fourth-generation Polo isn't a hugely exciting car to drive, but it's a solid choice, thanks to its excellent build quality and refinement. On the road, it's smooth and comfortable for a supermini, to the point where it almost feels like a car from the class above. Used Polos within your budget tend to be of a higher mileage; £3,000 secures a 56-plate 1.4-litre model in S trim with 85,000 miles on the clock, for example. Unlike the Clio and Micra, which have four-speed gearboxes, a facelifted Polo 1.4 like this has a six-speed auto. Fuel economy, meanwhile, is comparable to the Micra's.
At 270 litres, the Polo's boot is nearly as practical as the Clio's, and there's a large glovebox and plenty of cubby holes dotted around the cabin. The interior is a little dull, but it's solidly built and hard-wearing, while all of the controls are logically laid out. The driving position should be comfortable for people of all shapes and sizes, and there's excellent visibility as well. Legroom in the back is reasonable, but as with all these cars, although the rear seats do feature three seatbelts, travelling with three adults there will be a squeeze. A Polo in this specification is in group eight for insurance, which is the lowest here.
Carbuyer's choice as picked by content editor Tom Jervis
Compared to the other two cars on our list, the Renault Clio offers the best value for money. The £3,000 budget allows you to buy a much newer car with a more powerful 1.6-litre engine, which will make motorway journeys more relaxing. Its five-star Euro NCAP safety rating offers good peace of mind for inexperienced drivers, plus there's good room inside, so you can give friends a lift when called upon. If the Clio's higher insurance premiums are an issue, you can always step down to a slightly older car with higher mileage to save money on the purchase price.
Got a little bit more to spend? Check out our top 3 first cars for under £6,000
Best new car deals 2023: this week's top car offers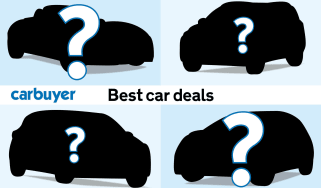 Best new car deals 2023: this week's top car offers
New 2024 Porsche Panamera – new looks, interior, and Turbo E-Hybrid model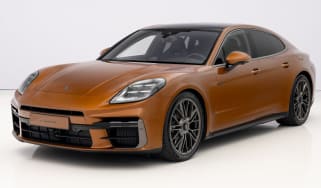 New 2024 Porsche Panamera – new looks, interior, and Turbo E-Hybrid model
New 2024 Dacia Duster arrives – popular budget SUV enters its third generation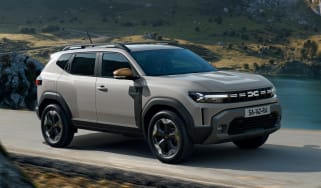 New 2024 Dacia Duster arrives – popular budget SUV enters its third generation