2021 Audi RS e-tron GT: prices, specifications and prototype drive
New electric Audi RS e-tron GT four-door coupe will be the flagship e-tron GT model
First RS badged e-tron model
£125,000+ price tag likely
Set to be revealed in early 2021
Production of the electric Audi RS e-tron GT has been confirmed. It'll be the first electric Audi to sport an 'RS' badge and will be powered by two electric motors producing 591bhp, with an overboost function increasing power to 638bhp.
When it arrives, the RS-badged model will be the flagship of the e-tron GT range, and will rival the Tesla Model S Performance and Porsche Taycan Turbo S. It will go on sale alongside the regular e-tron GT saloon in mid-2021.
2021 Audi RS e-tron GT: design
From the official images of the prototype, it's obvious that the RS e-tron GT will look far more aggressive than the standard car. The nose sits low, with a narrow pair of LED headlights and a closed-off honeycomb grille. There's also a wide front bumper and airdam, extended wheel arches and a steeply angled roofline.
At the rear or the car, a full-width rear light bar merges with a pair of LED taillights. Large aero-efficient alloy wheels also feature. Audi is also considering offering the camouflage design featured on the prototypes due to interest from potential buyers.
Interior and practicality
While the interior of the prototype remained mostly hidden, it's likely to be similar to the design seen on the latest Audi A7. This means a fully digitised interior with two screens occupying the centre of the dashboard, along with a digital dial cluster. Elsewhere, we'd expect the typical Audi RS spec, with Alcantara and leather trim sport seats, and swathes of carbon fibre and aluminium accents for the interior.
Every version of the e-tron GT will offer around 400 litres of rear boot space, together with an additional front storage space of around 80 litres. Interior space will be generous, with enough room to comfortably accommodate taller drivers and passengers. In the rear footwells, Audi has carved out an additional space for passengers to place their feet so they don't end up hunched over due to the rakish roofline.
Electric motors, chassis and performance
While full technical details of the powertrain have yet to be revealed, Audi has confirmed the RS model will get a 94kWh battery and a two-speed gearbox. Two electric motors will feature, with one mounted on each axle, along with a clever rear locking differential. In total, this setup will produce 591bhp, with an overboost function increasing power to 638bhp.
Performance will be rapid, with Audi Sport's engineers confirming the new flagship model will manage 0-62mph in under 3.5 seconds with a top speed limited to 155mph. A WLTP range of 250 miles on a full charge is also being targeted.
Like the standard e-tron GT, the RS version will be based on the same J1 chassis as the Porsche Taycan. But with the e-tron GT billed as a grand tourer rather than a performance car, it will offer a different driving experience to the Taycan, with a redesigned air suspension and steering setup.
Price and release date
When it goes on sale, we expect the RS e-tron GT to cost around £125,000, with the standard e-tron GT starting at around £100,000.
2021 Audi RS e-tron GT prototype drive - by Jonathan Burn
Carbuyer was given the opportunity to sample a prototype of the new Audi RS e-tron GT on the twisting roads of the Greek island of Rhodes.
After only a short distance, it is immediately obvious the RS e-tron GT feels more relaxed to drive than the Taycan, with several small differences over the Porsche. Its air suspension setup is surprisingly comfortable for a fully fledged hardcore RS model; there's an excellent level of refinement that suggests it will be a capable long-distance cruiser. The steering is light and accurate, making it easy to maneuver at low speeds.
Four driving models are featured, with Comfort mode using only the second of the two gears to further improve refinement. Efficiency helps to maximise battery range, while Dynamic starts the car in first gear for maximum straight-line performance, there is no option to change manually, with an automatic shift at around 50mph causing a notable thud. The final Individual mode allows the driver to fine tune the car's setup to their personal taste.
Squeeze the throttle hard from a standstill, and the car surges forward with such aggression that it genuinely pushes you back into the driver's seat. While the RS may be around 100bhp down on a Taycan Turbo S, the performance gap between the two is barely noticeable, with the Audi capable of blistering acceleration whenever you want it.
On tight twisting roads, the car hides its considerable 2,200kg weight and two-metre width remarkably well. This is thanks to the floor-mounted battery, which helps lower the centre of gravity. The rear-wheel steering makes the car feel accurate and nimble in corners.
Body lean is virtually non-existent in Dynamic mode but the softer Comfort mode actually makes the RS e-tron GT feel slightly more engaging to drive. It allows a small amount of body movement when cornering, and feels more reactive to steering, throttle and braking inputs as a result.
For more on the regular Audi e-tron GT, read our prototype drive here.
Facelifted Audi SQ5 TDI now available to order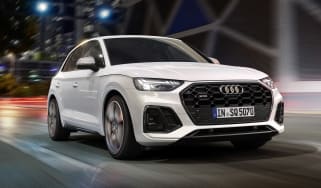 Facelifted Audi SQ5 TDI now available to order
Audi Q8 gains plug-in hybrid versions with 28-mile electric range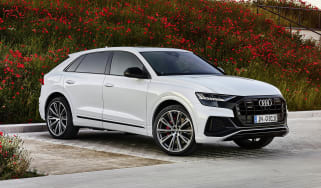 Audi Q8 gains plug-in hybrid versions with 28-mile electric range
BMW X5 xDrive45e hybrid SUV review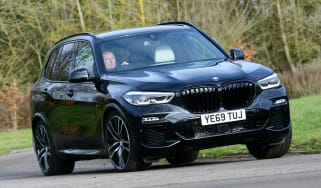 BMW X5 xDrive45e hybrid SUV review
Updated 2020 Audi SQ2 now available to order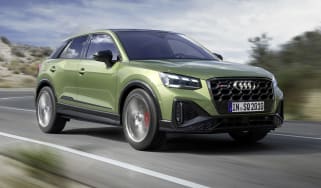 Updated 2020 Audi SQ2 now available to order
Ford Kuga Hybrid joins range as third electrified Kuga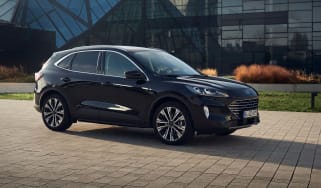 Ford Kuga Hybrid joins range as third electrified Kuga