New BMW 320e and 520e plug-in hybrids revealed
BMW broadens its European PHEV line-up with new entry-level 3 Series and 5 Series models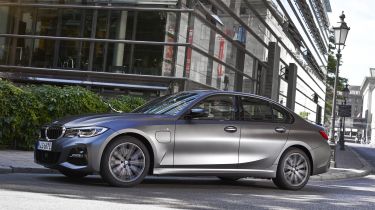 Up to 35 miles of electric range promised
Set to be cheaper than existing PHEVs
Very low running costs
 
The BMW 3 Series and BMW 5 Series have gained a new entry-level plug-in hybrid engine, badged 320e and 520e. The new PHEV models won't be sold in the UK, and will be available in Europe in March.
Both cars are available as a saloon or estate, and the 3 Series Touring gets the option of BMW's xDrive four-wheel drive. When they arrive, the pricing of the 320e and 520e will be lower than the existing 330e and 530e plug-in hybrid models.
Both the 320e and 520e use the same 2.0-litre petrol engine combined with an electric motor, for a combined output of 201bhp. When running on electric power, the 12kWh battery is capable of 30-35 miles in the 3 Series (depending on spec and body style), and between 25-34 miles for the 5 Series.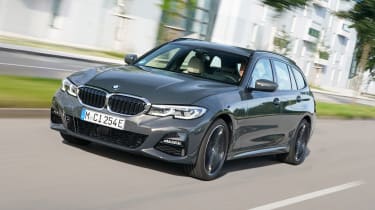 As with all plug-in hybrids, the claimed maximum fuel economy of 217mpg is unlikely to be achieved unless you drive predominantly on battery power, but the official CO2 figure of 30g/km or less is important - meaning they'll be cheap to tax while likely avoiding any low emissions zone charging.
Although they're set to be the cheapest plug-in hybrid models in their respective ranges, neither car is slow. Both are capable of decent acceleration, managing 0-62mph in between 7.6 and 8.2 seconds. A maximum speed of up to 87mph is possible on electric power alone - although doing so will quickly drain the battery. A full recharge takes around three and a half hours from a home wallbox.
The sat nav system fitted in each car can recognise when you enter a city or town, and automatically switches to electric power if there's enough charge remaining in the battery. BMW is also incentivising green driving with BMW Points - you get a point for every kilometre driven on battery power, and these can be put towards the cost of recharging at public BMW charging stations.
At low speeds, the cars emit a unique sound when running on electric power, in order to alert pedestrians and other road users. Both the 320e and 520e feature automatic air conditioning and the ability to preheat the cabin before entering, which can be done remotely on the 'My BMW' phone app.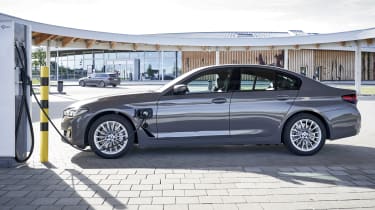 Due to where the battery is placed, you get a slightly smaller boot than in petrol or diesel models, but the flat floor means the storage space is still usable. You get 375 and 410 litres in the 3 Series saloon and estate respectively, and the latter offers a further 1,010 litres if you fold the rear seats down. That's compared with 480 litres in petrol 3 Series saloon models. The 520e sees a similar decrease; the 410 litres available in the saloon is 120 litres less than a regular 5 Series.
Read our review of the BMW 530e and 545e here.