New Fisker Ocean electric SUV: prices and specifications revealed
The Fisker Ocean is coming to the UK later this year to take on the Tesla Model Y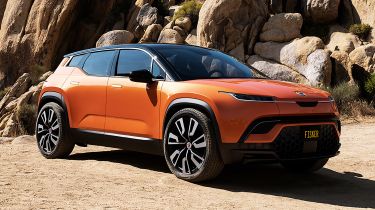 New electric SUV with up to 390 miles of range
Starting price of £34,990
Production to start in November 2022
Pricing and specifications for the new Fisker Ocean have been revealed. The new electric SUV has been shown at the Mobile World Congress, ahead of production starting in November. Prices for the Ocean start from £34,990, and the new model will be a direct rival to the Tesla Model Y, Skoda Enyaq iV and the Volkswagen ID.4.
Two battery options will be available: a Touring Range version with up to 275 miles of range, and a Hyper Range option that promises up to 390 miles between charges.
Fisker Ocean prices, specs and release date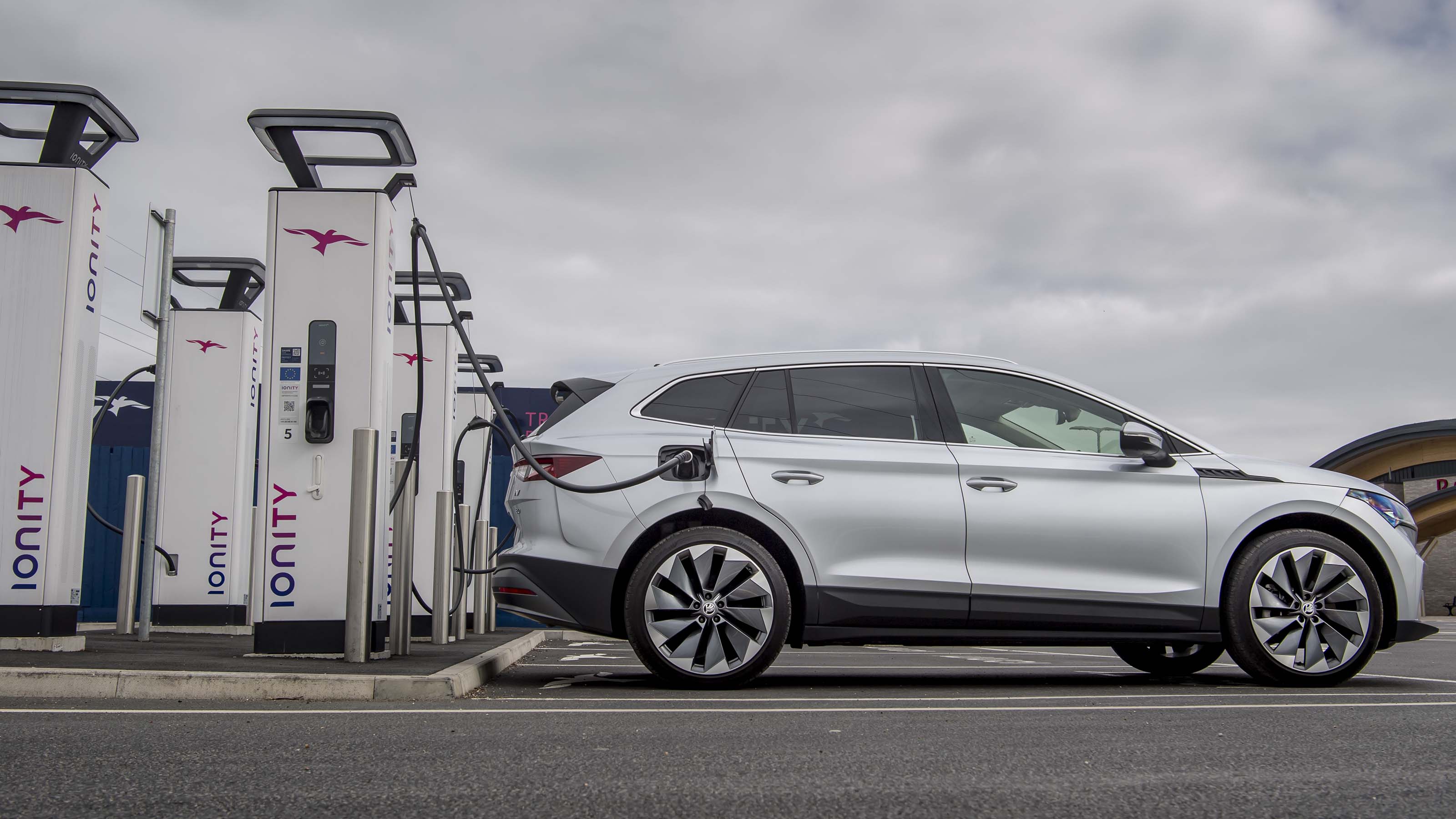 Top 10 best electric SUVs 2022
Although it's already on sale in the US, we'll have to wait a year or two before the Ocean is available here. Fisker is set to start production in November 2022, with the first 5,000 cars available in a first-edition One trim. The Fisker Ocean One gets the larger battery option, 22-inch aerodynamic alloy wheels, blue upholstery and lots of intriguing gadgets and features, which we'll dive into further down the page.
The entry-level Sport trim starts at £34,990, which matches the base VW ID.4 and Skoda Enyaq. Considering you get a panoramic sunroof, a powered tailgate, a 17.1-inch touchscreen and a digital rear-view mirror, that seems very good value.
Ultra is set to cost from £48,900 and is the least expensive trim to feature the larger battery version. A Tesla Model Y, meanwhile, starts at around £55,000. Top-spec Extreme also gets a revolving touchscreen, lane-change assist and a roof equipped with solar panels. Prices for the range-topping model start from £59,900.
Gloss white paint is standard, or you can upgrade to a range of metallic, matte and special paint colours. At launch, the options are black, silver or four different shades of blue; extra colours including orange, red, bronze and matte green. A light-coloured 'Sea Salt' upholstery option is available if you don't fancy the standard 'Black Abyss' seat style. 20-inch wheel covers are standard on all the normal trim levels, while 22-inch alloy wheels are optional (they're standard on the One launch model).
A UK dealership network isn't planned. Instead, there'll be 'experience centres' in prominent locations and orders will be taken online. You'll still be able to test-drive cars, and servicing will be dealt with by a third-party provider as Fisker currently doesn't have a UK infrastructure network.
Styling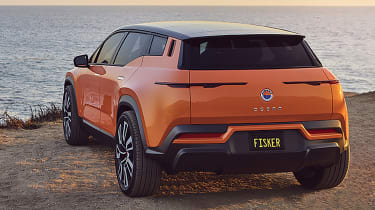 Fisker has tried to make the Ocean SUV look sporty, with a sculpted front end and wide wheel arches. It's said to be aerodynamically efficient, and the ultra-slim front and rear lights give it a modern look that stands out. There's a reason for the unusual-looking windowline - the car's 'California' mode drops all the windows except the windscreen. The rear window can also drop individually to facilitate carrying long items like surfboards.
On most trim levels, the rear three-quarter windows can be lowered electronically. Fisker calls these 'Doggie Windows', which allow air to flow into the cabin when dogs are in the car.
Measuring just under 4.8m long, the Fisker Ocean is the same length as the BMW iX3 and Tesla Model Y, and the wheelbase (the distance between the front and rear wheels) is long, allowing a big battery to be fitted.
Performance
Company CEO Henrik Fisker spoke to our sister site Auto Express and said the Ocean drives like a sports car thanks to instant torque and torque vectoring. The car's 0-62mph times are certainly impressive; Sport takes 7.4 seconds and has 271bhp, while the Ultra has a huge 533bhp and sprints to 62mph in 4.2 seconds. The Extreme drops the time by three-tenths of a second, so it's on a par with the GT version of the Ford Mustang Mach-E.
Entry-level versions can tow 1,090kg, while the Hyper Range battery pack can manage up to 1,815kg.
Interior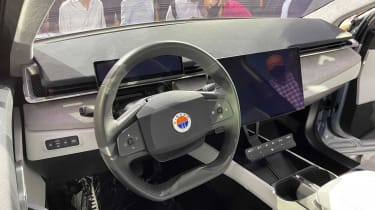 The cabin seems to have been influenced by the Model Y and the Mustang. There's a big central touchscreen and a slim digital driver's display but otherwise the interior is very minimalist. Fisker has fitted physical buttons on the steering wheel and for the climate control, which should make functions easier to use.
The central touchscreen measures 17.1 inches across, and can be swivelled between portrait and landscape orientations. While driving, the screen is portrait but stop - when you're waiting for it to charge, for example - and you can watch movies on the screen in landscape mode. As with many of its rivals, updates happen over-the-air.
Fisker is a brand focused on sustainability, so the seat fabric and floor are made from recycled T-shirts and plastic bottles.
There are no boot space figures yet but the Fisker Ocean is a spacious car and the brand is mulling over a seven-seat version in which the second row of seats would be brought forwards to accommodate a third behind it.
Read our guide to the best cars coming soon