2021 Maserati Grecale SUV teased in new official images
New Maserati Grecale SUV will rival the Porsche Macan and share parts with Alfa Romeo Stelvio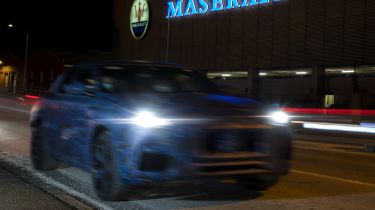 V6 petrol and electric versions due
All electric Maseratis to get Folgore badging
Blurry teasers hint at styling
The upcoming Maserati Grecale SUV has been teased. We're told the images were shared by Maserati employees on social media, but the photos may deliberately be of poor quality so as not to give too much away.
The photos suggest a pair of high-set headlights flanking a deep grille, which looks to be concave like it has been on previous Maseratis. There are four exhausts (on petrol versions) and generic lights at the rear of the car. The Grecale will probably look similar to the bigger Maserati Levante, and there seem to be hints of Alfa Romeo Stelvio and Jaguar E-Pace in its design too.
Maserati has now also revealed that the car will be unveiled before the end of 2021. Available with a range of powertrains, including a fully electric option, the Grecale will rival the Audi Q5, Mercedes GLC and Jaguar F-Pace.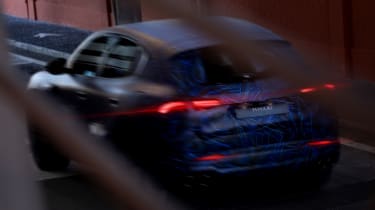 The electric version will be named 'Folgore', which means 'lightning' in Italian. No specifications are available yet but we're told the car will have the same charging tech as the Porsche Taycan and will be able to accept fast-charging at up to 300kW. That should mean an 80% top-up takes around 20 minutes, or even less, provided you can find a charger powerful enough.
A powerful V6 petrol engine will also be offered. The 3.0-litre twin-turbo engine will also power the Maserati MC20 supercar, which was launched in September 2020. In the MC20, the engine produces 622bhp; that amount of power in the SUV would make it one of the most powerful SUVs on sale. The Grecale will be built on the same production line as the Alfa Romeo Stelvio and the two cars will share some parts.
Maserati will also offer electrified options between the V6 and Folgore models. We'd expect the new mild-hybrid engine from the Maserati Ghibli to be fitted, while a plug-in hybrid powertrain can't be ruled out either.
It's thought Maserati will look to introduce electric versions of nearly every car it sells by 2024, all with the Folgore badging. Replacements for the Maserati GranTurismo and GranCabrio will be the first models to feature fully electric options. The electric Grecale Folgore will rival the BMW iX3, Jaguar I-Pace and the upcoming Porsche Macan EV.
Read our Maserati reviews here, or see what else is coming in 2021 and beyond.