Mitsubishi Shogun SUV (2007-2019) - Practicality & boot space
The long-wheelbase version of the Mitsubishi Shogun has acres of space
The massive space on offer inside the Mitsubishi Shogun comes thanks to its simple construction and huge size. The five-door long-wheelbase version is naturally much more practical, with the ability to have five or seven seats. Total boot space is cavernous and can rival a van's when all of the seats are removed or stowed away.
Mitsubishi Shogun interior space & storage
Naturally, there's loads of space for passengers due to the Shogun's size. The rear seats of the three-door can be awkward to get in and out of, but naturally the rear doors of the five-door version eliminate this problem.
The deep storage box between the front seats is handy and the glove compartment is a decent shape, too. There's only a single cup-holder in the centre console, but there's a small cubby with a closable lid for storing small items such as mobile phones or keys under the air-conditioning controls.
Boot space
Fold down the standard split-folding rear seats and the five-door, long-wheelbase model of the Shogun offers storage capacity to rival a van's. You can't say the same for the three-door model, which has a small 290-litre boot due to its shorter wheelbase. The three-door also does without the larger car's third row of seats. In the five-door, the boot is vast in five-seat configuration, at 663 litres, and still a respectable 221litres with all seven seats in place.
Those extra seats can fold down into the boot floor, while the second row folds, reclines and tumbles out of the way if necessary. The boot offers a maximum capacity of 1,120 litres. Access to the third row of seats can be a bit tricky and their size means they're only really suitable for children. The side-hinged boot door can be a nuisance, too – it needs a lot of space to swing open, which poses a problem if someone parks close behind you or you're close to a wall.
Towing
Being a big, diesel-only, four-wheel-drive SUV does come with some advantages, and the Shogun's towing capacity is one. The three-door model can tow up to 3,000kg, while the five-door car can pull up to 3,500kg. The five-door Shogun can effectively tow itself, as well as a small hatchback at the same time.
New electric MG4 hatch to start at £25,995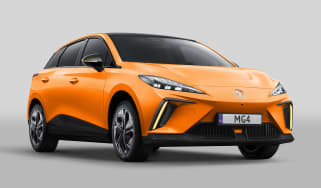 New electric MG4 hatch to start at £25,995
Kia EV4 SUV to take on the Volvo XC40 Recharge
Kia EV4 SUV to take on the Volvo XC40 Recharge
Best new car deals 2022: this week's top car offers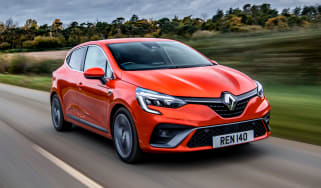 Best new car deals 2022: this week's top car offers