Volkswagen Golf R Cabriolet price dropped
The Volkswagen Golf R Cabriolet now costs £33,170 – £5,600 less than before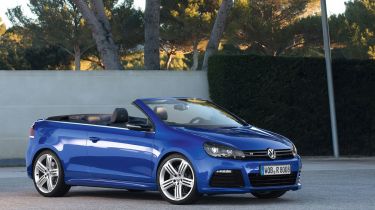 The price of the Volkswagen Golf R Cabriolet has been reduced to £33,170 from today.
The price was dropped by £5,600 to bring it closer to the £29,755 Golf GTI Cabriolet and make it cheaper than the £38,237 Porsche Boxster. What's more, customers who bought the Golf R Cabriolet at the previous price of £38,770 will be refunded the difference.
The price reduction comes now because the company's head office in Germany decided on the price before the UK branch of Volkswagen could negotiate. An annual price negotiation means that today UK dealers are able to sell the car at a more competitive price.
A VW spokesperson said that the revised price is "the price we'd have liked it to be, and where it should have been."
The Golf R Cabriolet, the most expensive model in the Golf range, has a 2.0-litre engine producing 261bhp. That means it goes from 0-62mph in 6.4 seconds and onto a top speed of 155mph.
By comparison, the Golf GTI Cabriolet, which is £3,415 cheaper than the Golf R Cabriolet, goes from 0-62mph in 7.3 seconds and onto a top speed of 147mph. Fuel economy is better too, at 37mpg with 177g/km emissions in the Golf GTI versus 34.4mpg and 190g/km emissions in the Golf R.
However the price of the Golf R Cabriolet does include a fully electric roof, leather seats, an automatic gearbox and climate control as standard.
For the full Volkswagen range, visit the CarBuyer Volkswagen reviews page.