Audi A1 S line Style Edition revealed
The new Audi A1 S line Style Edition adds £2,200-worth of options for £950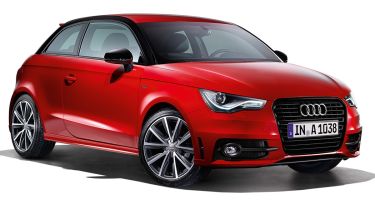 The Audi A1 S line Style Edition has been announced, which adds almost £2,200-worth of equipment for only £950 more than the normal S line version.
The new specification starts from £18,125, priced to fit between the S line and Black Edition models, and is available with the 85bhp 1.2-litre petrol, 104bhp 1.6-litre diesel and 120bhp 1.4-litre petrol engines in the Audi A1 range, in both three-door hatchback and five-door Sportback versions.
The new specification level adds metallic or pearl-effect paint in silver, black, red or white, a gloss black finish for the roof (just the door frames on three-door models) and gloss black door mirrors. There's also gloss black on the area around the front grille and a matt black grille and number plate holder. You also get S line exterior trim to make the car look a bit sportier as well as 17-inch alloy wheels. The lights have been upgraded too, with xenon headlights, LED daytime running lights and LED tail lights all standard.
On the inside of the new Audi A1 S line Style Edition is a matching paint finish on the air vents to the outside colour, as well as a sportier steering wheel, air-conditioning, a CD player with SD card input, a 6.5-inch display, Bluetooth and electric mirrors and windows.
The Audi A1 S line Style Edition sits just below the most expensive Black Edition in the A1 range, which includes 18-inch alloy wheels, a better sound system, tinted windows and climate control in addition to all the equipment above. The Black Edition specification is available only on the two 1.4-litre petrol engines and the 2.0-litre TDI diesel model.
The new A1 S line Style Edition is available now from £18,125 for the three-door 1.2-litre petrol model with a manual gearbox, and costs up to £20,605 for the five-door Sportback 120bhp 1.4-litre petrol version with Audi's seven-speed automatic gearbox.
For the full Audi range visit the CarBuyer Audi reviews page.