Audi A3 2013: new, more powerful diesel engine
A new 2.0-litre diesel engine with more power is now available for the Audi A3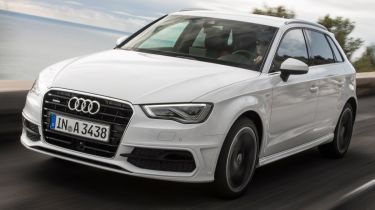 The Audi A3 range has been updated with the addition of a new 2.0-litre diesel engine and new LED headlights.
The new TDI diesel engine produces 181bhp, which makes it the most powerful 2.0-litre diesel Audi has ever offered. This new engine takes the A3 from 0-62mph in 7.3 seconds and up to a top speed of 145mph when using a six-speed manual gearbox.
The new engine isn't just powerful – it's efficient too, returning 68.9mpg and emitting just 108g/km of CO2. That means road tax for the Audi A3 fitted with this engine is free for the first year, and then £20 annually from then on.
The new Audi A3 diesel engine is available on the Sport and S line specifications with the optional quattro four-wheel drive system, priced from £24,375. It doesn't replace the 104bhp 2.0-litre diesel, rather sitting above it in the range, and is available in the three-door A3 or five-door A3 Sportback. The saloon model doesn't get the engine yet, but it'll follow soon.
A new £395 black styling package has also been added for Sport and S Line versions of the Audi A3. It adds a black front grille, black side grilles, a black number plate holder and a grey lower rear bumper.
New LED headlights are also now available for the Audi A3 SE and Sport, with a full LED lighting package available for £2,000. This includes LED headlights, rear lights and interior lights, as well as automatic lights and wipers. The headlights are also available as a separate option on the S line and S3 models.
These new LED lights turn with the steering wheel, improving your view around corners in the dark, and can be used as fog lights thanks to their reduced glare in poor visibility. They also improve vision over 68mph for easier motorway driving, and widen at junctions to give you a better view of the road. They can even automatically adjust when you go abroad and are driving on the right.
For the full Audi range, visit the CarBuyer Audi reviews page.