Ford Focus gets efficient new petrol engine
The Ford Focus will soon get a 1.0-litre petrol engine that qualifies for free road tax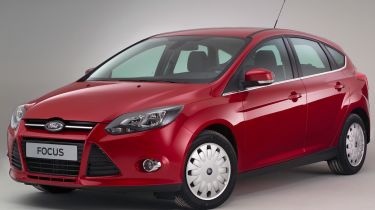 The Ford Focus will soon be available with a 1.0-litre petrol engine that emits 99g/km CO2, making it exempt from road tax in the UK. The new model with this efficient engine will go on sale in early 2014.
The new 1.0-litre Ford EcoBoost engine has 99bhp and uses Ford's Econetic technology including efficient tyres, aerodynamic touches and tweaked gears to get 67.5mpg and super-low emissions.
This engine is new to the Focus, but has previously been used in the Ford Fiesta, Mondeo, B-Max, C-MAX and Grand C-MAX. The engine uses a turbocharger to improve power and keep emissions low in the small three-cylinder engine.
Currently the most efficient engine available in the Ford Focus is the diesel ECOnetic model, which gets 83mpg and 88g/km emissions. That means it also qualifies for free road tax.
The 1.0-litre EcoBoost engine is also available in the Ford Focus with 99bhp and 124bhp, which get 109g/km and 114g/km respectively. Although this new engine has the same power as the current 99bhp 1.0-litre engine, it is 10g/km more efficient. Ford is also planning a fully electric Ford Focus Electric model for the future, which will of course but the most efficient of all.
Sherif Marakby, medium car vehicle line director, Ford of Europe, said: "With the Focus 1.0-litre EcoBoost, Focus Electric and Focus ECOnetic, Ford offers customers an unrivalled power of choice of fuel-efficient family cars."
New Ford Focus Navigator
Ford has also announced a new set of models in the Ford Focus range that add sat-nav as standard equipment. This should be popular with company car buyers, as adding options can lead to higher tax bills.
The Ford Focus Zetec Navigator gets all the equipment on the normal Zetec model, plus sat-nav, 16-inch alloy wheels and a different centre console. The Titanium Navigator model, which replaces the current Titanium model, get a Sony sat-nav system, new 16-inch alloy wheels and rear parking sensors. Similarly, the Titanium X Navigator replaces the Titanium X model and gets 17-inch alloy wheels, a rear-view camera and Sony sat-nav.
The Ford Focus Zetec Navigator price starts at £17,555, with the top-spec Titanium X Navigator priced from £21,295. That works out to about £200 more than the current Titanium X model.
For the full Ford range visit the CarBuyer Ford reviews page.