New Range Rover Hybrid unveiled
An efficient new Range Rover Hybrid will be added to the SUV line-up in September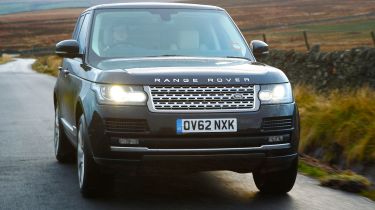 The new Range Rover Hybrid has been announced, and it is set to be the most efficient car Range Rover has ever made. Its diesel and electric hybrid engine will get 44.1mpg and emit just 169g/km. A Range Rover Sport Hybrid has also been revealed, bringing the new lower running costs to the seven-seater model.
Land Rover's new Range Rover Hybrid uses a 3.0-litre V6 diesel engine combined with an electric motor to improve fuel economy. This new engine set-up should be just as fast as the 4.4-litre V8 diesel engine in the current car, thanks to the extra power from the electric motor.
That means it can go from 0-62mph in 6.9 seconds, the same as the current diesel V8 model, and carry on to a top speed of 135mph. The Sport version is faster still, going from 0-62mph in 6.7 seconds, with a top speed of 140mph.
The batteries for the electric motor are fitted below the floor of the car, to keep the Hybrid's centre of gravity low and help with cornering. This also means that interior space hasn't been compromised, so there's just as much luggage and passenger space in the new Range Rover Hybrid and Range Rover Sport Hybrid as there is in the standard models.
In many hybrid cars the batteries and electric motor add a lot of weight to the car, but Land Rover has worked hard to prevent that. The new Range Rover Hybrid weighs 34kg more than the current diesel V8 model, which isn't much in proportion to the overall weight of the Range Rover.
Three different driving modes are available in the Range Rover Hybrid and Range Rover Sport Hybrid, including one that drives the car on electricity only at speeds under 30mph. The car can collect energy from braking and use it to recharge the batteries, as well as charging them using the motion from the diesel engine.
Land Rover's Terrain Response 2 four-wheel drive system will be included on the new Hybrid models as well, which adapts the car to different types of terrain like snow or loose ground.
The Range Rover Hybrid and Range Rover Sport Hybrid will be fully unveiled on 10 September at the Frankfurt Motor Show, and they will both be available to order from Range Rover dealers from the same day. Deliveries are expected in early 2014, probably in January. Prices have not been revealed yet, but expect the new models to cost quite a bit more than their equivalent diesels thanks to the extra technology involved.
For the full Land Rover range visit the CarBuyer Land Rover reviews page.