Vauxhall Ampera gets price cut
The price of the Vauxhall Ampera plug-in hybrid has dropped by £3,500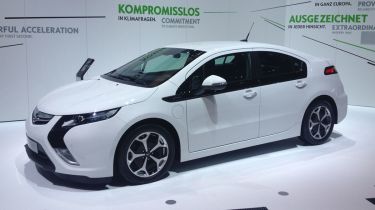 The price of the economical Vauxhall Ampera has been cut by £3,500 in an effort to boost sales and improve the range-extending hybrid's appeal.
That means that mid-spec Vauxhall Ampera Positiv now starts at just £28,750, after the standard £5,000 government grant is applied. All electric cars and plug-in hybrid models benefit from this grant, significantly reducing the cost of buying one of these eco-friendly models. Although unconfirmed, the entry-level Ampera Earth should be cheaper still.
News of the price cut conveniently coincides with the Frankfurt Motor Show 2013, with Vauxhall-Opel boss, Karl-Thomas Neumann reiterating his desire to support electric mobility in the UK. Vauxhall's pricing is even more important when you consider the innovative and new BMW i3 will cost from just £25,680 when it goes on sale in November.
It comes well equipped, too, with even basic models getting a load of airbags, DAB radio, USB connectivity and Bluetooth as standard. LED daytime running lights, 17-inch alloy wheels and cruise control are also included across the range. Top-spec models get sat-nav, a Bose sound system and a 30GB hard drive to store all your favourite music.
Thanks to its combination of electric motor and 1.4-litre petrol engine, the Ampera can travel up to 50 miles on electric power alone. However, when the charge runs out, the petrol engine powers a generator to ensure the user can continue on their journey. This means the Ampera's total range is around 350 miles – a figure similar to many petrol or diesel-powered family hatchbacks. What's more, it's free to tax and London Congestion Charge exempt, thanks to CO2 emissions of just 27g/km.
Take a look at all our Frankfurt Motor Show news, by clicking on individual news stories on the home page, or alternatively check out our IAA round-up of everything you need to know.
For the full Vauxhall range, visit the CarBuyer Vauxhall reviews page.