New Nissan Leaf ownership scheme revealed
Nissan CARE-EV Leaf scheme aims to attract buyers with free charging and 24-hour test drives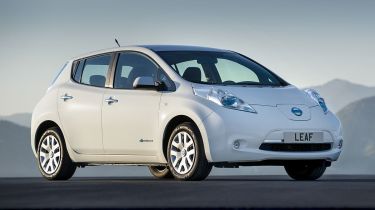 Nissan hopes to boost sales of its Nissan Leaf hatchback with a range of new services aimed at making the electric car easier to live with – both on a daily basis and in the long term.
The Nissan CARE-EV LEAF customer commitment scheme will give Nissan Leaf owners free use of rapid-charge points – which can give the Leaf an 80 percent charge in just 30 minutes. These can be found at 60 Nissan dealerships as well as at the 50 charge points installed by Nissan as part of the UK's Ecotricity Electric Highway. It has sites that stretch across the motorway network from London to Edinburgh.
The new scheme also means that with seven-days notice, Leaf owners can borrow a petrol or diesel Nissan free of charge for up to a fortnight –although they will have to cover the cost of fuel and insurance.
Included in the new deal is free pan-European EV roadside assistance (for recovery if your Leaf ever runs out of power), plus a free battery state-of-health guarantee. The guarantee means that batteries found to have lost a quarter of their charge capacity will be replaced within the first five years or 50,000 miles free of charge.
Although we reported last month that hybrid and electric car sales were up by 14 percent compared to the same time last year, Nissan and Renault have admitted they'll miss their target to sell 1.5 million electric vehicles between them by the end of 2016. The companies, which work in close partnership, now forecast that this target might not be reached until 2021.
To help encourage new customers to to buy a Leaf, Nissan will also offer free 24-hour test drives, so customers can put it through its paces during their daily routine.
Managing director of Nissan GB Jim Wright, said: "By making firm promises across five key areas we are tackling head-on some of the questions we hear from potential customers when considering electric cars for the first time. These commitments deliver unprecedented levels of support to customers and make the Leaf a practical, desirable and affordable reality for many more motorists.
"The pledge to offer Leaf owners a free diesel or petrol Nissan for up to 14 days a year is particularly revolutionary. It means Leaf drivers can enjoy the many benefits of Leaf ownership, such as running costs of just two pence per mile, on their normal daily commute and then, when they're going on holiday or have a longer trip to make, borrow a car that's more appropriate to their journey."
For the full Nissan range, visit the CarBuyer Nissan reviews page.