New Audi Q1 expected in 2020
Compact Q1 reinforces lower branches of Audi's SUV family tree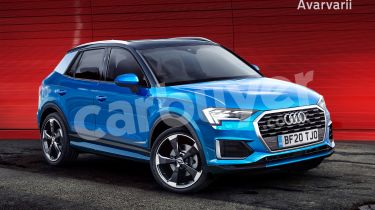 With SUVs becoming ever-more attractive to buyers, Audi is set to introduce a Q1 – its smallest SUV yet – as the entry point to a rapidly growing crossover range.
It's not expected in the UK until 2020 at the earliest, but when it arrives, the Q1 will be Audi's strongest challenge yet to non-premium SUVs such as the Kia Stonic, SEAT Arona and Nissan Juke. It'll align with the next generation of Audi A1 hatchback and is likely to start from somewhere near £20,000.
The current A1 has proven very successful – the prestige of the four-circle badge on a car that can compete with the Ford Fiesta on price has lead to European sales of 100,000 a year. The Q1 promises to build on this appeal and is expected to share much of the A1's mechanical equipment – using a platform that also underpins the Volkswagen Polo and SEAT Ibiza.
As our preview image shows, the Q1 is likely to be more car-like than some compact SUVs, with strong influences from the slightly larger Q2. Although it'll have a strong resemblance to its Audi A1 sister, it'll be more distinct from its sibling than the Ford Fiesta Active, which really is just a raised and more sturdily styled version of the regular hatchback.
Carbuyer asked Audi sales and marketing boss Bram Schot about the likelihood of a Q1, and was told: "You cannot ignore the SUV trend; the question is how wide and how deep do we make the programme with SUVs?
"Depending on the business opportunities, we decide on the future product portfolio. But don't be surprised if in two or three years you do see the car, as we try to react fast to markets," he added, hinting that changing trends often prompt carmakers to think on their feet.
Use of the A1's 'MQB' architecture means the VW Group's latest petrol and diesel engines are likely to feature. We can expect to see turbocharged 1.0 and 1.5-litre petrol engines in the Q1, while a 1.6-litre diesel is possible, too. With mild-hybrid technology appearing in range-topping models like the Audi A7 and Audi A8, it's possible that it could trickle down to the A1 and Q1 by 2020, but this could be ruled out to keep both models affordable.
While the Q1 fills the lower end of Audi's SUV portfolio, the long-awaited Audi Q8 will soon take a seat at the head of the table, offering Audi fans a true alternative to the Range Rover, There's also a mid-sized Q4 in the pipeline to expand on the sporty theme of the Audi Q2. And speaking of sporty, more powerful and aggressive versions of the Q5 and Q3 are likely to surface soon as well.