Audi S3 saloon on sale now
The new Audi S3 saloon is on sale now, priced from £33,240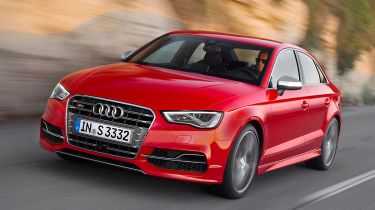 The Audi S3 saloon is on sale now priced from £33,240, with first deliveries scheduled for March 2014.
The S3 Saloon becomes the third model in the S3 line-up alongside the three-door hatchback and practical five-door Sportback versions. It is based on the Audi A3 saloon and will feature Audi's new 300bhp 2.0-litre turbocharged petrol engine.
The new engine is lighter than the old one and is part of Audi's efforts to minimise the overall weight of the car for better fuel economy. The S3 is available with a manual or automatic gearbox and both will do around 40mpg. That's particularly impressive considering the Audi S3 saloon is capable of 0-60mph in just 4.9 seconds and a top speed of 155mph.
Owners of the newest S3 will be able to press a single button to switch between different modes that change how the engine, suspension and steering work for different types of performance or improved fuel economy.
Like the other models in the S3 range, the saloon comes with sports suspension and leather seats as standard, as well other styling tweaks including aluminium pedals and a sporty leather steering wheel.
The new model will retain the design touches of Audi's other S models on the outside too, with the trademark S-line front grille, sports bumpers and chrome exhaust pipes.
There's a decent 390-litre boot, which represents a 50-litre increase on the boot capacity of the existing Audi S3 Sportback – though the saloon body shape makes it slightly less practical on a day-to-day basis. Air-conditioning, a digital radio, an iPod connection and Bluetooth connectivity all come as standard.
The four-wheel drive Audi S3 Saloon is available to order in the UK now, with an Audi S3 convertible set to join the range for later in 2014.
For the full Audi range, visit the CarBuyer Audi reviews page.