Subaru BRZ now with free winter tyres
Buy a Subaru BRZ coupe before March and get a free set of winter tyres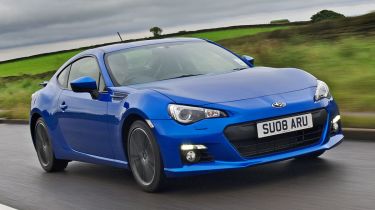 Buy a Subaru BRZ coupe before the end of February 2014, and you'll get a free set of winter tyres and alloy wheels – to keep you on the move during the cold weather.
Subaru is offering all customers who buy the sleek sports car a free set of Toyo Snowprox cold weather tyres and an accompanying set of 17-inch alloy wheels, as well as somewhere to store the car's summer tyres during the winter months.
The offer is worth £1,095 and includes fitting at your local Subaru dealer, while all BRZ buyers get to choose between bright silver or grey wheels, to replace those fitted as standard.
Darren James, Subaru UK director for aftersales, said: "The BRZ has won plaudits from across the industry as a great driver's car. The offer of a free set of winter tyres will mean new owners can fully appreciate the BRZ's blend of light weight, usable power and rear-wheel-drive handling, even when the weather takes a turn for the worse."
The Subaru BRZ is one of our favourite coupes currently on sale. We awarded it 4.8 out of 5 when we drove it, thanks to its reliable engine, impressive level of standard equipment and unbeatable value for money. It's seriously good fun to drive, too, and will do 0-60mph in around 7.6 seconds, while the low-slung driving position makes you feel like you're in a Porsche 911 costing three times the price.
On standard summer tyres the Subaru BRZ isn't the kind of car you want to drive in icy conditions. With lots of power, a lightweight body and rear-wheel drive, getting stuck in the snow is a likely proposition – but fitting winter tyres makes the BRZ as usable every day as a much bigger, more expensive 4x4.
For more information on fitting winter tyres, check out our winter tyre guide 2013. Or to read our tips on how to stay safe on the road, take a look at our winter driving tips.
Alternatively, check out the full Subaru range, by visiting the CarBuyer Subaru reviews page.