New Volkswagen Passat models launched
The Volkswagen Passat is available in two new trim levels for 2014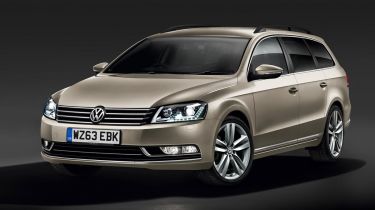 Volkswagen has added two new trim levels to the Passat range for 2014, called Executive and Executive Style.
The new models are the most luxurious and well-equipped Passats available, and replace the Highline, Sport and R-Line cars previously available in the Passat line-up.
The Executive becomes the model above the entry-level S and economical BlueMotion versions of the Passat, and comes with a touchscreen sat-nav system, leather upholstery, heated front seats and an electrically adjustable driver's seat.
The new Executive specification Passat also has '2Zone' climate control, which allows the driver and front passenger to control the air temperature in their own areas of the car. Other additional extras compared to the entry-level car include automatic lights and wipers, cruise control, front and rear parking sensors, and a rear-view mirror that automatically dims if it detects potentially dazzling light.
The other new model, the Executive Style, is a step up on the Executive and is the top-of-the-range Passat. It gets larger alloy wheels, lower sports suspension, brighter bi-xenon headlights, front fog lights and tinted rear windows on top of the equipment found in the Executive.
Both saloon and estate versions of the new models are available with a 1.4-litre turbocharged petrol engine or the more economical 1.6-litre or 2.0-litre turbocharged diesel engines. The most frugal models will be those fitted with the 1.6-litre TDI engine, which returns economy figures of 114g/km of CO2 and 65.7 mpg in the saloon shape car. Economy figures for the estate version are very similar.
Both new models are on sale from today. The saloon version of the Passat starts at £22,545 for the Executive and £23,540 for the Executive Style, with the estate version of the car costing from £23,955 in Executive trim and £24,950 for the Executive Style.
Click here to read our review of the Volkswagen Passat.