New engine for Vauxhall Astra GTC
Vauxhall Astra GTC range gets a speed boost with new turbocharged petrol engine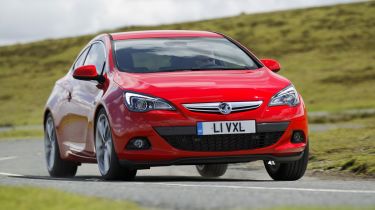 The Vauxhall Astra GTC – a rival to the stylish Volkswagen Scirocco and well-built Renault Megane – is now available with a new 1.6-litre turbocharged petrol engine.
The model with the new engine will be the fastest in the Astra range, with the exception of the sportiest VXR version, and will be capable of 0-60mph in 7.3 seconds and a top speed of 143mph. The new 1.6-litre turbo engine was first used in the convertible Vauxhall Cascada last year and delivers sporty performance while returning combined economy figures of 51mpg and CO2 emissions of 154g/km.
Until now, the quickest model in the GTC range had been the 2.0-litre twin-turbo diesel version, which is more economical but more expensive at £24,175. This new 1.6-litre turbo petrol Astra GTC is on sale now at £20,995.
Vauxhall has taken several engineering steps to try and make sure the 1.6-litre turbo Astra GTC is quiet and smooth to drive, as well as quick and economical. These include modifications to the engine and related parts, designed to keep levels of noise, vibration and harshness (known as NVH) as low as possible.
As well as a new engine, Vauxhall has also made its infotainment system, called Intellilink, available across the whole Astra GTC range. The system includes sat-nav, voice control, Bluetooth phone and audio connectivity, and other multimedia services, delivered via a seven-inch touchscreen. The system starts from £855, with the top-of-the-range Navi 950 version featuring street-level European mapping.
Astra GTCs with the 1.6-litre turbo petrol engine and Intellilink infotainment system are on sale now, with first deliveries expected in the spring.
For more information on the entire Astra range and other Vauxhall models, head over to the Carbuyer Vauxhall reviews page.