Renault ZOE deals launched
New incentives designed to make Reanult ZOE electric car more affordable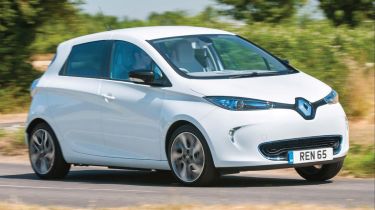 Three new initiatives designed to entice buyers looking for a small electric car have been revealed in an attempt to boost sales of the Renault ZOE.
The first of the new offers available when ordering a ZOE is battery hire from £45 a month on a three-year contract. The deal is designed for lower mileage customers who do 3,000 miles per year or less, further reducing the price of regular short journeys in the ZOE compared to a car using petrol or diesel. Until now, Renault's lowest threshold had been 7,000 miles or less, so the new limit makes the ZOE better value for buyers who either don't use their cars often or don't go very far.
Renault is also making the ZOE Dynamique model available on its Selections PCP finance package. The offer will run until the end of March and make the better-specced version of the ZOE available from £189 per month, plus deposit. This will be combined with the Renault 4+ package, which includes a four-year warranty, roadside assistance and servicing.
The final initiative announced today is the Selections 500 scheme, which has been set up to try and keep customers buying cars from Renault once they've bought their first.
The loyalty incentive automatically adds £500 to the value of a part-exchange when customers trade in their Renault cars for newer models at the end of their finance contracts. Customers buying a new ZOE will be included, so will be entitled to the £500 bonus if they decide to buy another Renault ZOE when choosing a new car in the future.
The ZOE, Renault's electric alternative to more conventional superminis like the Ford Fiesta starts at £18,443, rising to £20,043 for the top-of-the-range Dynamique Intens model.
To read reviews of the ZOE and other cars in the Renault range, visit Carbuyer's Renault page.