Gas-powered Audi A3 g-tron launched
New Audi A3 g-tron hints at future of environmentally friendly motoring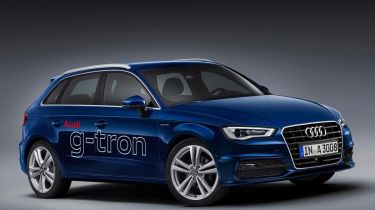 The Audi A3 g-tron has been launched in Germany, and is a Sportback version of Audi's family hatchback that can run solely on natural gas.
The A3 g-tron has a 1.4-litre petrol engine that has been modified to use natural gas, Audi e-gas or conventional petrol. Thanks to the way the e-gas is made, driving the car in pure e-gas mode means the car is carbon neutral.
Audi e-gas is a synthetic methane produced at a factory in Lower Saxony, Germany, using green electricity. The manufacturing process involved in producing it binds as much carbon dioxide as is released when the car uses e-gas as fuel. Customers wishing to use e-gas are required to buy an Audi e-gas fuel card for a monthly flat fee, and the the card is then used to purchase it at the pump.
Average gas consumption for the A3 g-tron is around 3.3kg per 100km, which works out at about €3.50 per 100km.
Prof. Dr. Ulrich Hackenberg, board member for technical development at Audi, said: "In addition to our e-mobility developments, the Audi e-gas project is an important pillar of our sustainability strategy – as is the development of other synthetic fuels."
The car represents the most environmentally friendly form of long-distance driving but sadly it won't come to the UK yet owing to the current lack of natural gas filling stations. By contrast, there are over 650 e-gas fuel stations in Germany, as well as a much more extensive natural gas filling station network.
Audi will monitor the amount of e-gas used by each customer and then contribute the same amount to the German natural gas network.
The A3 g-tron is priced at €25,900, which is around €3,000 more than the entry-level Audi A3 Sportback model. It is available to order in Germany now.
For reviews of other cars in the current Audi range, visit the Carbuyer Audi page.