New Mercedes E-Class due in 2016
Sources close to Mercedes confirm new Mercedes E-Class will go on sale in 2016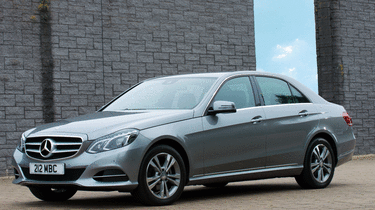 The current Mercedes E-Class (pictured) may have just had an extensive facelift, but Carbuyer can confirm that an all-new model will be launched in 2016. The new car is set be the most economical Merc E-Class yet and will available as a saloon and an estate model, as well as being joined by four-seater coupe and four-seater convertible versions in 2017.
Although nothing has been confirmed by Mercedes, the new Mercedes E-Class will get an interior with a more upmarket feel, to bring it inline with the brand-new Mercedes C-Class and the latest Mercedes S-Class.
That means we can expect the E-Class to have plenty of exposed metal and wood on show inside, and to get the metal 'eyeball' air vents that currently feature in the new C-Class and S-Class.
Much of the technology available on the flagship Mercedes S-Class is set to be carried over to the new Mercedes E-Class, such as the top-of-the-range model's large TFT displays, 360-degree cameras (for added visibility when parking), and its interior fragrance dispenser.
Most exciting of all is the possibility that Mercedes' pioneering Magic Body Control suspension could make its way into the E-Class range. It uses cameras to scan the road surface, before priming the suspension to iron out any bumps. The current E-Class can already be specced with air suspension, which makes Magic Body Control seem like a logical next step for top-of-the-range models.
Mercedes has confirmed to Carbuyer that the new Mercedes E-Class' engine line-up is a long way from being decided, but we can expect the car to get a new range of super efficient petrol and diesels, along with a diesel-electric hybrid BlueTec model, which is almost guaranteed to qualify for free road tax.
The engines will doubtless combine with a more aerodynamic body and lightweight construction – both of which already feature on the new C-Class – to offer economy and emissions figures never before seen on the Mercedes E-Class range.
Despite the drive towards efficiency and improved fuel economy, the new Mercedes E-Class range should include a fast AMG model that will take on high-performance versions of the BMW 5 Series, Audi A6 and Jaguar XF.
Prices are a long way from being confirmed, but the new Mercedes E-Class is likely to cost slightly more than the current range, which is priced from around £33,000. That said, it will likely get more equipment as standard.
For all the latest reviews of the Mercedes range – including our video road test of the current E-Class – visit the Carbuyer Mercedes reviews page.