Volkswagen Golf celebrates 40th birthday
Iconic VW Golf was introduced in 1974 and is now in its seventh generation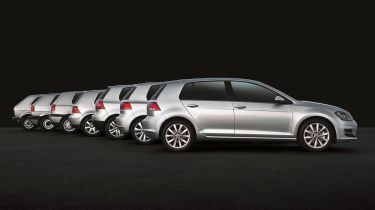 The Volkswagen Golf is now 40 years old, with more than 30 million examples rolling off the production line since the model's introduction in 1974.
In the 1970s, VW had the daunting task of designing a successor to the original Volkswagen Beetle – the Golf was the answer and it enjoyed immediate acclaim. It heralded a new era of cars with engines in the front and front-wheel drive (the Beetle was rear-engined and rear-wheel drive), with the first ever Golf attracting one million customers after just over two years on sale.
The iconic, high-performance Volkswagen Golf GTI variant was introduced in 1976 and was soon followed by the Golf D and Golf GTD – cars that played a significant part in establishing diesel engine technology in the mainstream car market. The first convertible Golf was launched in 1979, adding a touch of drop-top glamour to the practical VW Golf range.
Since the Golf Mk1, there have been several new models, meaning that today a brand-new Golf is the seventh generation in the family.
Looking back on each version of the car also gives a more general overview of how motoring technology has advanced. The Mk3 model was the first Golf to feature airbags when they were included with the car in 1992, and anti-lock brakes became standard on all models in 1996. The era of the Mk5 Golf saw the introduction of fuel-efficient BlueMotion technology, while the Mk6 car, launched in 2008, was the first Golf to feature driver aids like park assist.
The latest model was released in 2012 and is lighter and more efficient than the model it replaced. The efficient VW Golf TDI BlueMotion version now returns economy figures of 88.3mpg and emits just 85g/km of CO2, with all cars featuring more technology than ever before.
For the first time, the VW Golf range also includes an electric model – called the Volkswagen e-Golf. VW claims it can do around 118 miles on a single charge, while a plug-in hybrid GTE model will follow later this year, combining electric battery power with a conventional petrol engine.
In a year that also saw the invention of the Rubik's Cube and liposuction, 1974 proved to be the time that Volkswagen created its most successful model ever, a car that remains a benchmark in the hatchback class today.
For reviews of cars in the current VW line-up, visit Carbuyer's dedicated Volkswagen page.