New Peugeot 308 GT set for launch
Sporty GT will be the quickest car in range until Peugeot 308 R arrives in 2015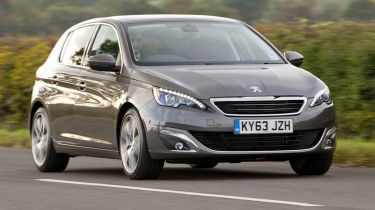 Peugeot plans to release a performance version of the new 308 hatchback called the Peugeot 308 GT.
The car is due to be added to the range by the end of this year and will sit between the fastest existing 308, the Active 2.0-litre BlueHDi 150 model, and an even more extreme version of the car called the 308 R that's likely to hit the market in 2015.
The 308 GT will be offered with either a petrol or a diesel engine. The petrol version will use the 1.6-litre turbo engine from the smaller Peugeot 208 GTI, which produces 197bhp and should take the 308 GT from 0-62mph in roughly 7.5 seconds.
The diesel GT will get a more powerful version of the 2.0-litre BlueHDi used in the existing range, with power likely to be up to around 185bhp.
According to Peugeot, the GT will get its own particular styling touches both inside and out, including double twin exhausts to emphasise its sporty performance. Our sister site, Auto Express, has several exclusive images of the car in testing.
The 308 GT will rival the Skoda Octavia vRS and the Kia Pro Cee'd GT, though it's almost certain to cost more than the £20,495 that Kia charges for its hot hatch. It's still expected to be cheaper than the Volkswagen Golf GTI and Ford Focus ST though, paving the way for the even faster 308 R model to enter the range at just under £30,000.
The 308 R could use the same 270bhp 1.6-litre petrol engine fitted to the Peugeot RCZ R coupe and will get more of an overhaul than the GT in an attempt to ensure it appeals to drivers looking for a truly performance-focused hatchback. In addition to the extra power, changes are likely to include a firmer suspension setup, bigger breaks and larger alloy wheels.
For reviews of cars in the current Peugeot range, visit Carbuyer's dedicated Peugeot page.