Alfa Romeo to introduce eight new cars by 2018
Italian brand will introduce new saloons, SUVs and faster version of sporty 4C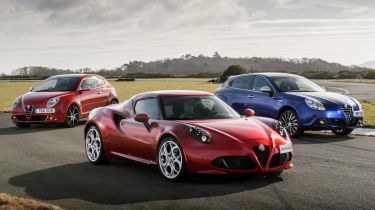 Alfa Romeo will launch eight new models in the next four years as it seeks to massively increase sales and steal customers from Audi, BMW and Mercedes.
The announcement looks like good news for driving enthusiasts, as there is a definite emphasis on delivering cars that will be dynamic and fun to drive. The new Alfa Romeo Giulia, due in 2015, is said to be a lightweight, rear-wheel drive sports saloon designed to rival the BMW 3 Series. A larger, executive saloon that will go up against the Merecedes E Class and Jaguar XF, will follow the Giulia in 2016.
In the same year, Alfa is also set to introduce two new compact family cars to replace the existing Giulietta model, one of which is likely to be an estate car. The Italian company has also recognised the increasing popularity of SUVs in the car market by developing two new SUV models for 2016.
The sporty two-seater Alfa Romeo 4C will undergo development too, with Alfa keen to offer an even quicker version of the car as part of the brand's high-performance 'Cloverleaf' family. This model is likely to be introduced towards the end of next year.
Most of the upcoming models will feature a range of new petrol and diesel engines that should keep their emissions at competitive levels – cars in the current Alfa Romeo range aren't particularly frugal when compared to rivals.
There are only three cars in the current Alfa line-up, the Giulietta, Mito and 4C, and it's hoped that the expansion of the range will see sales jump from the current figure of 74,000 cars per year to 400,000. Alfa Romeo is now owned by Fiat-Chrysler and the group's strategy involves major growth of all its brands, including Jeep, Fiat, Chrysler, Maserati and Alfa.
For reviews of the three cars in the current Alfa line-up, visit Carbuyer's dedicated Alfa Romeo reviews page.