Range Rover SVR revealed
Land Rover releases full video and pictures of fastest Range Rover ever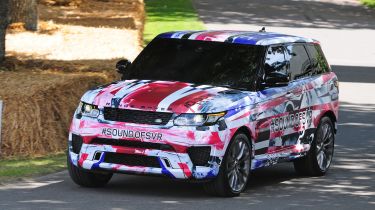 Last week, Land Rover revealed the Range Rover Sport SVR, which is set to be the fastest car the firm has ever built. We've now had a chance to see the car in the metal at the Goodwood Festival of Speed, with the car making an appearance on the event's legendary hill climb track.
The car has been thoroughly tested at the 13-mile Nurburgring race circuit in Germany, and is designed to rival cars like the Porsche Cayenne Turbo and BMW X5 M50d. Land Rover has put a large focus on making this car not only very fast, but also great fun to drive. The video below, shows the car driving around the circuit with a fancy paint job designed to camouflage the car's looks.
The Range Rover Sport SVR gets a huge 5.0-litre V8 petrol engine, offering 39bhp more than the current top-of-the-range supercharged Range Rover Sport. That means the car's 0-60mph time drops from 5.0 seconds to 4.8 seconds, with a top speed of 165mph. Those figures ensure the new Range Rover Sport SVR, will be faster than a Porsche Boxster, despite weighing considerably more.
Although changes to the car's setup are yet to be confirmed, it is likely to feature heavily revised suspension and clever electronics to improve stability at high speed. Whatever the changes are, it is clear from the video that corners pose the SVR few problems. The standard sports exhaust means the car will sound sporty, too.
Even more tantalising is the confirmation that the SVR badge will be used to name all future performance orientated Range Rover models. Next in line for the special treatment is the Range Rover Evoque, which is expected to be powered by a 2.0-litre turbocharged engine producing 300bhp.
Prices are yet to be confirmed, but we expect the new Range Rover Sport SVR to cost from around £100,000. While that might sound a lot, it'd put the Range Rover in direct competition with the Porsche Cayenne Turbo, which currently costs from around £89,000.
For all our reviews of the Land Rover range – including Mat Watson's video review of the Range Rover Sport – visit the Carbuyer Land Rover reviews page.