Tesla Model S now with unlimited warranty
The top-spec Tesla Model S 85kWh now comes with an eight-year, unlimited miles warranty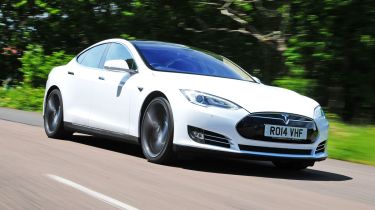 The Tesla Model S is now available with an eight-year, infinite mile warranty – covering both the battery packs and the drivetrain – beating the current market leader, Kia, for comprehensive cover.
For now, the impressive warranty is only available on the top-spec (and best selling) 85kWh model, but is transferable between owners, unlike Vauxhall's lifetime warranty, which is only applicable for the car's first owner.
What's more, the eight-year cover will be retrospectively applied to existing cars, meaning every Tesla Model S 85kWh built since 2012 will be protected from big bills should anything go wrong. Lower-powered Teslas get an eight-year, 125,000-mile warranty.
Tesla owner, Elon Musk, described the brand's electric motors as: "fundamentally more reliable than gasoline engines." The new policy reflects this faith and should interest sceptics unsure about the product's longevity.
Musk acknowledged that the decision to extend the warranties might harm the company's profits in the short term. But by doing so, would build people's faith in the brand and all the associated technology.
Musk said: "By doing the right thing for Tesla vehicle owners at this early stage of our company, I am confident that it will work out well in the long term."
It'll be interesting to see how the warranty policy pans out on Tesla's new model range due within the next couple of years. An eight-year, unlimited mileage warranty on the upcoming BMW 3 Series-rival could certainly tempt buyers away from conventional small saloon cars – and could even turn the executive car market on its head.
As always, we'll be the first to update you with any progress from the Tesla brand, so bookmark this page and check back soon for all the latest news.
To read our review of the Tesla Model S, take a look at the Carbuyer Tesla reviews page.