New BMW 2 Series convertible fully revealed
The third BMW 2 Series model will cost from £29,180 when it goes on sale in February
Prices, specs and first pictures of the new BMW 2 Series convertible have been revealed today, costing from £29,180 when it goes on sale in February next year.
It joins the BMW 2 Series coupe and new BMW 2 Series Active Tourer MPV and, like those models, will offer a range of petrol and diesel engines, as well as a choice of manual and automatic gearboxes. The new car is set to be more spacious, more economical and even more fun to drive than the BMW 1 Series convertible it replaces.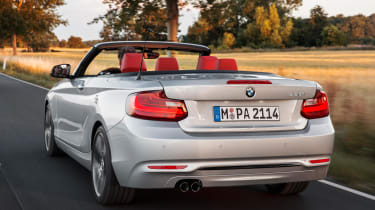 We've got all the information on BMW's latest four-seat cabriolet, so keep reading for everything you need to know.
BMW 2 Series convertible details
There are no big surprises in terms of styling or design. The BMW 2 Series convertible looks identical to the 2 Series coupe, albeit with a retractable fabric roof. However, the 2 Series convertible is longer and wider than the model it replaces, making for improved passenger space and a bigger boot.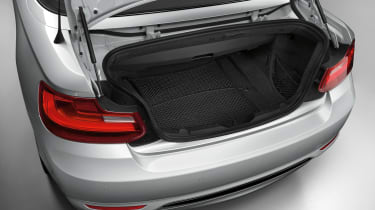 All models get the same double kidney grille, familiar BMW headlights and sporty styling. There is a range of specifications, colours and alloy wheels to choose from, as well as a selection of interior trims and optional extras.
From launch there will be four engines available, with CO2 emissions as low as 116g/km – meaning the most frugal 2 Series models cost just £30 per year to tax. Performance is good, too, with even the basic diesel model covering 0-62mph in less than eight seconds.
BMW 2 Series convertible specs
Like the BMW 2 Series coupe, all convertible models come well-equipped. Every model comes with Bluetooth and USB connectivity, a DAB radio and BMW Emergency Call – which contacts the emergency services in the event of an accident. These can be supplemented by a BMW navigation system, Internet connectivity and voice control services.
All models feature alloy wheels, automatic air-con, keyless go, sports seats and a multi-function leather steering wheel. Luxury trim adds bigger wheels, chrome trim inside and out, and leather seats.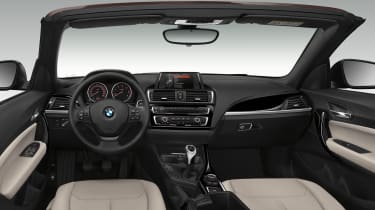 M Sport models get a beefier body kit, dual exhaust pipes and sports suspension, as well as 18-inch alloy wheels, M Sport badging and an upgraded Harmon Kardon stereo. Flagship M235i cars get unique alloy wheels and a subtle rear spoiler for improved aerodynamics and this is the first time the powerful engine is available with the convertible body style.
Safety kit such as airbags, seatbelt pre-tensioners and ISOFIX child seat mounts are standard, as is a tyre pressure monitoring system, which warns of potential punctures. The 2 Series convertible is 20 per cent stiffer than the old 1 Series, while stronger windscreen pillars and hidden aluminium bars improve safety throughout. BMW says the 2 Series convertible "meets or surpasses safety requirements around the world" – so should boast a five-star Euro NCAP crash test rating when it goes on sale next year.
BMW 2 Series convertible engines
BMW claims an average 18 per cent improvement in fuel economy over the old 1 Series convertible, with the most frugal model capable of more than 64mpg.
The cheapest BMW 220i gets a 2.0-litre petrol engine and will return 41.5mpg. Add the automatic gearbox and this figure improves slightly to 44.1mpg, but if low running costs are a priority then you should turn your attention to the brilliant BMW 220d. This model will do 60.1mpg and emits 124g/km of CO2. Add an automatic gearbox and that improves to 64.2mpg and CO2 emissions of 116g/km.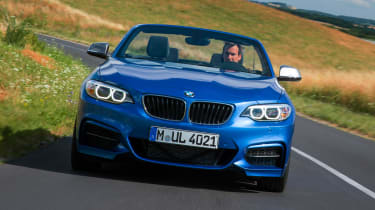 Next in the range is the BMW 228i convertible, which boasts a more powerful 2.0-litre turbocharged petrol engine. It'll do 0-62mph in around six seconds and can return as much as 42.8mpg.
Arguably the highlight of the new 2 Series range is the range-topping BMW M235i convertible. It gets the same 322bhp 3.0-litre petrol engine as the coupe, and with the automatic gearbox will do 0-62mph in just five seconds. Fuel economy and emissions are compromised slightly (35.8mpg and 184g/km of CO2), but the substantial performance gains will be worth the trade off to some.
BMW 2 Series convertible price and release date
Prices for the new BMW 2 Series convertible will start at £29,180 for the entry-level BMW 220i Sport. Step up to the classier 220i Luxury and you'll need £30,180, while the more agreessive-looking 220i M Sport starts at £30,530. If you're looking for a diesel-powered BMW 2 Series convertible, prices start from £29,965 for the BMW 220d Sport. The BMW 220d Luxury is £1,000 more, with the most expensive M Sport model costing £31,315. Next in line is the BMW 228i, which is only available in M Sport trim and costs £31,550. The top-of-the-range BMW M235i is the most expensive model, priced from £37,710 with a manual gearbox as standard. All go on sale from February 2015.
Unlike with the coupe, there will be no basic SE spec from launch, meaning like-for-like, the convertible is around £3,000 more than the coupe. Cheaper models – including a lower-powered BMW 218i and 218d – will join the range later, along with a more powerful BMW 225d M Sport diesel to be announced next year.
For more information on the current BMW range, including a video review of the 2 Series coupe, make sure you visit the Carbuyer BMW reviews page.