Updated Range Rovers get technology boost
Range Rover and Range Rover Sport updated with engine tweaks, head-up display and off-roading technology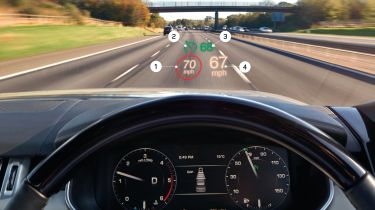 Land Rover is revising the Range Rover and Range Rover Sport with more efficient engines and All-Terrain Progress Control (ATPC) technology, which is designed to improve their off-road capability.
The optional ATPC system keeps the car more composed when travelling at low speeds up or down steep hills, over rough terrain and on low-grip surfaces.
It allows the driver to choose an appropriate speed, which the Range Rover will then maintain without you needing to use the pedals. This is particularly helpful on difficult terrain, where very slow yet steady progress is desirable. It works in both forward and reverse gear.
Another new option is the head-up display. This uses laser technology to show key driving information on the windscreen, so the driver doesn't have to look away from the road. The information includes the car's speed, current gear, sat-nav instructions, traffic-sign recognition and cruise control information.
The head-up display also allows the driver to choose exactly which of the above items it shows on the windscreen, so you don't have to be overwhelmed with information you don't want.
Land Rover has also cleaned up the car's 3.0-litre, six-cylinder diesel engines and increased their performance. The Range Rover TDV6 is now 8.5% more efficient and emits 182g/km of CO2. Meanwhile, the Range Rover Sport SDV6 has had a power boost. It's now 7% more efficient and emits 185g/km of CO2. Both engines now return slightly more than 40mpg economy.
The colour palette available to personalise both the Range Rover and Range Rover Sport has also been updated, with a new shade called Yulong White.
The ATPC system costs £175 and is available as an option on the Range Rover TDV6, Range Rover Sport SDV6 (except the SDV6 Hybrid) and all V8 Supercharged versions. The head-up display costs an extra £1,000.
For all our Range Rover reviews – as well as the Land Rover Defender, Discovery and Freelander models – head over to our Land Rover page.