Porsche reveals new 911 and Cayenne models
Porsche 911 Targa 4 GTS and flagship Porsche Cayenne Turbo S SUV to get first public airing in Detroit
Porsche has revealed two new models to join the existing Porsche 911 and Porsche Cayenne ranges. An all-new addition to the 911 range is the Porsche 911 Targa 4 GTS, while the Porsche Cayenne Turbo S is the quickest version of the facelifted SUV.
For Porsche enthusiasts, the GTS Targa is likely to be of most interest. GTS trim sits in between S and track-day-ready GT3 specification in terms of performance.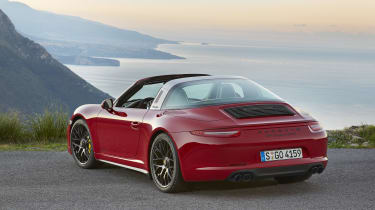 The Targa body shape, meanwhile, features a semi-open-top, metal-folding roof that promises both security and wind-in-the-hair fun, when the chance presents itself. The '4' denotes this 911 comes with four-wheel drive for supreme all-weather ability.
Power comes from a 3.8-litre, six-cylinder engine that produces 424bhp – enough to get the GTS from 0-62mph in 4.3 seconds and on to a top speed of 186mph, when fitted with Porche's PDK automatic gearbox.
Seasoned 911 fans will spot that the GTS is 22mmm wider at the back than the standard car – thanks to its flared, Carrera 4 wheel arches. The GTS also has a unique front bumper, 20-inch Turbo S alloy wheels, smoked headlight lenses, and glossy black exterior trim.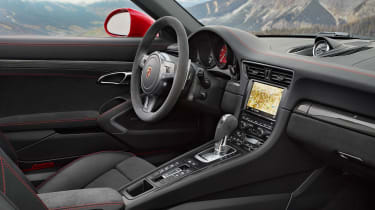 The GTS comes fitted with a sports exhaust and Porsche's Sports Chrono pack, which includes a dashboard-mounted stopwatch (for recording those lap times) and adjustable dampers. The latter lets the driver choose between hard and soft suspension settings. Finally, the cabin is decked out in Alcantara, for a high-end interior feel.
Targa's currently represent 13% of all 911s sold and the new model will no doubt appeal to a decent percentage of those buyers. It is priced from £104,385.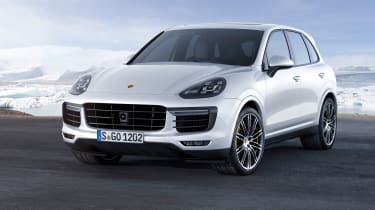 Parked next to the 911 few would guess that the Cayenne Turbo S is the fastest of the two. A re-fresh rather than an all-new model, the Cayenne comes fitted with the same 4.8-litre, twin-turbocharged V8 as the old model, but it now produces 562bhp – 20bhp more than the old model.
That's enough to get the Cayenne from 0-62mph in 4.1 seconds – four tenths of a second quicker than the car it replaces (and the new Range Rover Sport SVR) – top speed is 176mph. A time of 7:59.74 minutes makes the Turbo S the fastest SUV to ever tackle the Nurburgring race circuit, which many see as an analogue for UK roads.
Huge carbon ceramic brakes (that resist fade) and massive callipers mean the Cayenne should lose speed even quicker than it builds it. All models come with Porsche Dynamic Chassis Control and Porsche Torque Vectoring – for faster cornering speeds. A sports exhaust will be an option at an as-yet-unspecified price.
Standard kit includes items such as 21-inch alloy wheels, LED headlights that move with the steering wheel, a leather interior, extremely powerful stereo, height adjustable air suspension and sat-nav.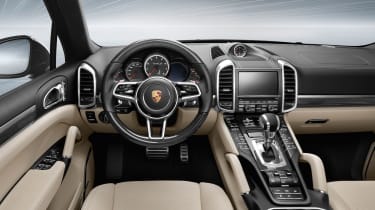 Buyers will be able to take their mind off the £118,455 price tag (briefly, at least) with a complementary track day at the Silverstone-based Porsche Experience Centre. There you can explore your Turbo S' sizeable performance in relative safety.