All-new Hyundai Tucson teased
The replacement for the Hyundai ix35 - the Hyundai Tucson - has been teased ahead of its launch next month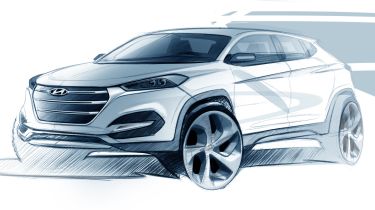 This is the best indication yet as to the look of the new Hyundai Tucson SUV. The Tucson, shown here in a design sketch, will replace the Hyundai ix35 in the coming months.
The new car will feature a sportier look than the current ix35 and will be revealed at the Geneva motor show next month.
Hyundai says the SUV features a chrome-framed grille and describes the new car as "sleek".
The original Tucson name was dropped in favour of ix35 in the UK when the current car went on sale in 2009. But it retained the Tucson name in certain markets – and Hyundai says the reintroduction of the name underlines the significance of the new car.
Hyundai's design boss, Peter Schreyer said: "Our new compact SUV will be a big step forward for the Hyundai brand globally. The all-new Tucson has a bold and athletic presence and a proud stance.
"Its design is characterised by flowing surfaces, bold proportions, sharp lines and – most importantly – our brand signature hexagonal grille."
Hyundai has sold more than one million SUVs since the Hyundai Santa Fe – the brand's first SUV and the Tucson's bigger brother – went on sale in the early 2000s.