Fastest ever SEAT Leon Cupra announced
The SEAT Leon Cupra Ultimate Sub8 Performance Pack is the fastest SEAT ever made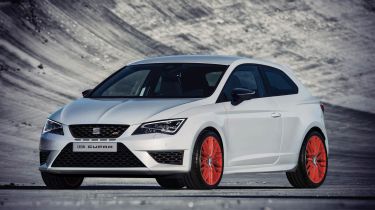 SEAT has launched the "Ultimate Sub8 Performance Pack" as a £4,200 add-on to the SEAT Leon Cupra hot hatch. As the range-topping version of the £27,210 Cupra, the Ultimate Sub8 Performance Pack includes several performance enhancements to turn it into SEAT's fastest road car yet.
By stripping out some of the car's features, SEAT has reduced the car's weight in the pursuit of improving acceleration and reduce braking distances. This has led to some compromises in passenger comfort – the air conditioning and parts of the interior trim have been removed and the audio system isn't as advanced as that of the Cupra.
The Sub8 Performance Pack includes distinctive 19-inch alloys in either black or bright orange. More powerful Brembo brakes represent an upgrade from the excellent standard brakes, and drivers can choose between a six-speed manual gearbox or a DSG automatic gearbox with paddles on the steering wheel.
As a £460 optional extra on top of the £4,200 Sub8 Performance Pack, the car can come with semi-slick Michelin tyres which provide enhanced grip in dry weather, but may have less traction in the rain. With these tyres fitted, the car would cost £31,870.
Its main competitor is the Renault Megane Renaultsport 275 Trophy-R, another performance-orientated hatchback with compromised interior comfort. Other performance hatchbacks include the Volkswagen Golf R, Mercedes A45 AMG and the BMW M135i, but none of these premium alternatives offer the same stripped-down, track-focused personality of the Cupra Sub8 Performance Pack.
The "Sub8" name refers to the car's heritage – the modified Seat Leon Cupra that set an impressive lap time of under eight minutes at the legendary Nürburgring racing track in Germany.
Last week, the fastest-ever Ford Focus was revealed. The Ford Focus RS uses a 2.3-litre turbocharged engine to drive all four wheels and promises more than 300bhp.