All-new Lexus RX SUV teased
A new Lexus RX SUV will be shown next month; UK sales expected later this year with prices around £45,000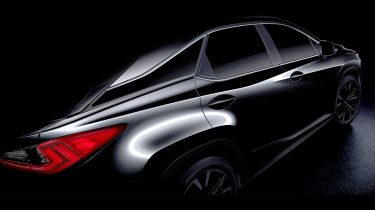 This is the first official image of the new 2015 Lexus RX SUV. The car makes its public debut at the New York Motor Show next month.
No official information has been revealed, but the styling of the fourth-generation of RX SUV appears to have been influenced by the recently launched Lexus NX SUV.
Our sister title Auto Express has seen the new car during its testing on public roads, but despite being cloaked in camouflage, it's clear the car will feature a smoother front end than the NX. It will retain the NX's boomerang-style LED headlights, however.
It'll also feature the same long overhangs (the bodywork that sits ahead of the front wheels and behind the rear wheels) as the current RX, which suggests it'll once again be better suited to on-road driving rather than more rugged terrain. More off-road-focused models tend to have shorter overhangs that make them better able to deal with steep hills and dips.
In the UK, the Lexus RX will feature a hybrid engine, mated to a CVT automatic gearbox. A petrol engine could be offered, as it already is in some markets outside of the UK, but like the rest of Lexus' range – IS saloon apart – no diesel will be available.
The Lexus RX, which rivals the BMW X5 and Mercedes M-Class, is expected to go on sale later in 2015, with prices starting at around £45,000.
Click the image to see pictures of the current Lexus RX SUV