Next-generation Kia Optima revealed
Sharper look and upgraded interior for Kia's flagship saloon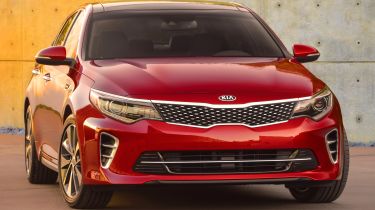 We've been given our first look at the Kia Optima ahead of the car's debut at the New York Motor Show next month.
The next-generation Optima represents a renewed effort by Kia to steal sales from the traditional big-sellers in the large family saloon class, namely the Ford Mondeo, Volkswagen Passat and Vauxhall Insignia.
The only official image released so far shows the front end of the car, and the new design is certainly sharper than that of the outgoing model. It features Kia's 'Tiger Nose' grille, as well as a new bumper and headlights.
Kia has not released much information on the new Optima thus far, but we expect at least a 1.7-litre diesel model and a hybrid version to reach the UK. The full engine range has yet to be confirmed, and it's unclear at this stage whether a petrol model will be made available here.
Kia has claimed that the interior of the new Optima will be more spacious than ever. We also expect some upgraded cabin materials in the form of leather seats, matt black switches and a widescreen display for the infotainment system. Extra safety technology is also very likely.
The new Kia Optima will hit showrooms in 2016 and, for the first time, an estate version will be added to the range in 2018. A Sportspace concept car was on Kia's stand at the Geneva Motor Show earlier this month – it looks likely to serve as a preview of the Optima estate.