SEAT Alhambra MPV - 2015 update revealed
Spanish brand's popular seven-seater gets minor facelift, cleaner engines and more tech
The seven-seater SEAT Alhambra MPV has been redesigned for 2015, introducing cleaner engines and new technology.
The subtle facelift is designed to keep the MPV up to date with its long list of rivals, which includes its mechanically identical sister, the Volkswagen Sharan, the Vauxhall Zafira and the recently revealed 2015 Ford Galaxy.
The new design includes LED lighting and keeps the Alhambra in line with the rest of the SEAT family.
The line-up of engines has been redeveloped to be cleaner and more efficient. All of the new engines meet the forthcoming Euro 6 emissions standards that come into effect in September of this year.
Two versions of SEAT's 2.0-litre TDI diesel will be on offer, producing 148 or 181bhp. A 1.4-litre TSI petrol will also be available to UK buyers, producing 148bhp.
SEAT claims that, thanks to improvements, the 148bhp 2.0-litre diesel has a fuel economy figure of 57.6mpg and emits 130g/km of CO2.
All of the engine options can be linked to a DSG dual-clutch automatic gearbox, which comes with a coasting function. The idea is that as soon as you lift off the accelerator, the gearbox decouples from the engine to help increase that all-important fuel economy figure.
Inside, buyers are treated to a host of new tech, including the latest generation of SEAT's Easy Connect infotainment system. The new version has a higher-resolution touchscreen so it's easier to read and has "the very latest processors" to make sure the system loads maps and menus quicker. Massage seats and keyless entry can also be included.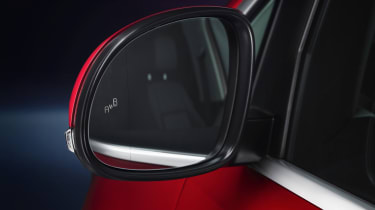 An automatic braking system is also now standard equipment. This applies the brakes when the car thinks the driver "can no longer intervene" following an accident. New to the list of safety tech is a blind-spot sensor (pictured above), which warns you of unseen vehicles passing by in other lanes on the motorway.
The Alhambra revisions come at a time when some brands are thinking about whether or not to keep selling their MPV models in the UK, due to the effects of the booming mini-SUV market. Others, however, are refreshing large parts of their MPV range at the same time.
The revised Alhambra will be available from the summer and pre-orders start in May.