Watchdog: Body blow for Leaf as repair causes damage
Intervention made to get EV fully fixed after it's damaged during battery replacement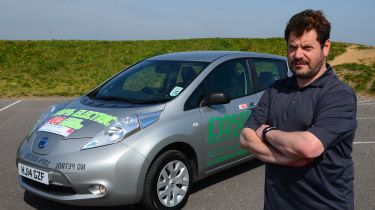 The Nissan Leaf finished an impressive eighth in the Driver Power 2015 survey, showing just how much owners love their cars and the affordable running costs they offer.
One of its highest individual scores was for reliability, proving the battery tech can be trusted. But as with all electronic systems, they can never be faultless and as they age, they're more susceptible to failures.
Burl Solomons, from Bournemouth, Dorset, got in touch with Carbuyer's sister magazine, Auto Express, after problems with his Leaf's battery led to an unexpected and lengthy battle to get damage to the bodywork repaired. Burl had bought the 62-reg Leaf second-hand from Westover Nissan, Bournemouth, and after 10,000 miles it refused to turn on. After hours spent investigating the problem, it was decided the battery pack would need replacing and this meant a trip to Leaf specialists at Benfield Nissan, Gateshead, Tyne and Wear.
The car was fully – and expensively – repaired under warranty, and then returned to Burl. But all was not well. Burl noticed damage to the wing and doors that hadn't been there before. What's more, Burl wasn't happy with the style of repairs being offered. He said: "It's not big damage, but it's damage nonetheless. They spent thousands on getting it working again, yet they have offered a smart repair rather than a full repair."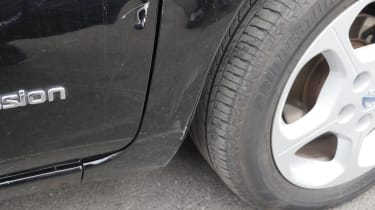 Burl was concerned the damaged sections would be filled in and resprayed, leaving him with a sub-standard car. Auto Express thought Burl was entitled to have the car returned to him in the same condition it left him, so they contacted Nissan to pursue his case. Nissan assured them that the repair would be a comprehensive job, and not just a smart, cosmetic touch-up.
A spokesman said: "While in our care Mr Solomons' car was regrettably damaged. We have apologised to Mr Solomons and have organised for his car to be repaired, at our expense, to a high standard using the latest methods, facilities and processes." Burl's Leaf was booked into the bodyshop in Westover Nissan, Bournemouth with the repairs due to take a week. Meanwhile, Burl was loaned a courtesy car – another Nissan Leaf – while he waited.
He was pleased with the outcome, and told Auto Express: "Thank you for all your help. Without your call, it could have been rumbling on forever."