Top 10 most popular car reviews
We take a look at last week's most-read reviews on Carbuyer.co.uk
It's always interesting to see which cars are the most popular with UK buyers when the Society of Motor Manufacturers & Traders (SMMT) releases the latest sales figures. Here at Carbuyer, we can see which models are the most popular with readers on a regular basis by analysing how much traffic our reviews are receiving.
The cars in the list may be popular at the moment because they are big sellers, or because they are fresh on the market, or even because they have caught the public's attention through advertising or awards.
Read on to see which cars made it in to the top ten reviews list last week on Carbuyer...
Still top dog in our most-read review chart is the Nissan Qashqai. We're big fans, with the car scoring 4.7 out of five in our review of the latest model. The Nissan is currently the fifth biggest seller in the UK and it's not hard to see why when you consider how well it performs across the board. The 1.2-litre petrol and 1.5-litre diesel engines are our favourites, so which one to go for just depends on how you use it. The Acenta trim level delivers a decent level of kit, so we'd recommend spending the extra over the basic Visia spec cars.
The Tiguan is due to be replaced soon, which may explain why so many people are searching for the car and finding our 3.2-star review. Despite its age, the Tiguan is still a desirable SUV in a busy sector of the market and is available with four-wheel drive should you need it. If you fancy one, and it's worth bearing in mind that the current model should be subject to discounts because it's set to be replaced, we would recommend the front-wheel drive TDI 150 model in mid-range Match trim, which includes alloy wheels, sat nav, climate control, DAB radio and parking sensors.
3. Ford Kuga
The latest Kuga scored a solid if unremarkable three out of five in our review but it's an improvement on its predecessor, representing good value for money and some unexpected driving fun. The diesel engines suit the car best, so it's worth considering either of the 2.0-litre diesel models. Just like the Ford Focus, we'd recommend the Titanium trim level, as it's the best value for money.
The Volkswagen Golf is a big seller in the UK and we definitely understand why, giving the seventh generation model 4.6 stars out of five in its review. The Golf really is a great all-rounder for anyone considering a family hatchback, even if it does cost slightly more than many of its rivals. If you're considering buying one, and we know plenty of people are, we'd recommend the 2.0-litre diesel model or the 1.4-litre TSI petrol, depending on whether you're a high mileage driver or not. As with the Tiguan, we'd recommend the Match trim level.
The Volkswagen Polo scores 4.6 stars out of five, just like the Golf, and was our Best Small Car award winner for 2015. There is a range of good engines, the car is well built and it looks very smart too. Although the Ford Fiesta is more fun to drive, the Polo wins in several other areas and has a more upmarket image too. The 89bhp 1.2-litre petrol model in SE trim is our pick of the range and comes with 15-inch alloy wheels, a CD player and a leather-trimmed steering wheel.
The Renault Kadjar shares a number of mechanical parts with the Qashqai but its added practicality and longer warranty give it the edge over the Nissan. It scored a whopping 4.8 out of five in our review and is currently the sixth most popular review on Carbuyer, perhaps aided by a recent TV advertising campaign. If you're thinking of buying a Kadjar, we recommend taking a look at the 1.5-litre diesel model in mid-range Dynamique Nav specification.
7. Dacia Sandero Stepway
The Dacia Sandero Stepway received 3.5 out of five stars in our review, scoring particularly well in the running costs and practicality categories. We'd recommend the 1.5-litre diesel model, especially if you're a high mileage driver, as it costs nothing to tax and claims economy figures of 74.3mpg. Dacia's usual entry-level Access trim level has been left out for the Stepway, meaning buyers have a choice between the more upmarket Ambiance and Laureate spec models.
8. Dacia Duster
The Dacia Duster in eighth place remains one of the best value cars on the road today. Its most obvious selling point, and one that is most important to the majority of car buyers, is its low price, which enables many buyers to own a compact SUV when they wouldn't otherwise be able to afford to. Despite its lack of refinement the Duster scores 4.7 out of five. Standard equipment is relatively low across the range to keep the price of the car down, so a mid-range Ambiance model is probably the best compromise; if you want lots of standard equipment you may have to consider something slightly more expensive or slightly smaller.
9. Skoda Yeti
The Yeti has proved a big favourite with family car buyers and it's no surprise to see it's still popular with people considering their next car thanks to low running costs and excellent practicality. The Skoda scores 4.5 out of five in our review, doing well in every category. We'd recommend the Yeti with a diesel engine in SE specification, a spec which includes dual-zone air-con, cruise control and handy rear parking sensors.
10. Ford Focus
Like the chart-topping Qashqai, the Ford Focus scores very highly with Carbuyer, achieving 4.4 stars out of five. It's good to drive, while comfortable and refined too. The EcoBoost petrol engines available in the Focus are our favourites – you can get a 98bhp or 123bhp version in the Focus, and both are nippy around town and cheap to run. There are six trim levels available and our favourite is the Titanium; you have a better choice of engines if you go for a Titanium model, as well as equipment such as eight-inch touchscreen infotainment system, dual-zone climate control, rear parking sensors and cruise control.
The UK's top 10 best-selling cars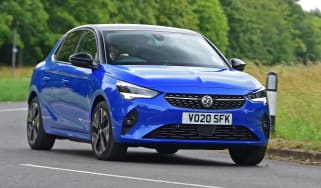 The UK's top 10 best-selling cars
Updated Peugeot 5008 starts at £29,585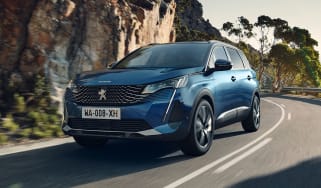 Updated Peugeot 5008 starts at £29,585
Cupra Formentor SUV review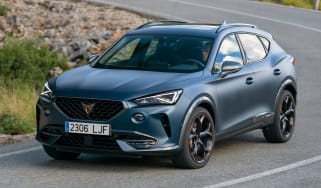 Cupra Formentor SUV review
2020 Volkswagen ID.3 hatchback: base model starts at under £30k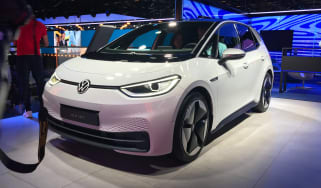 2020 Volkswagen ID.3 hatchback: base model starts at under £30k